---
Buy tickets
Ticket Type
Price (£)
Fee (£)
Quantity
---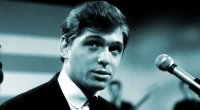 Part of The London Int'l Ska Festival 2019
Thursday 18th April - 7pm
Georgie Fame
Rhythm & Blue Beat special
+ support from; King Zepha & DJs Greedy G and Simon Cobb

PLUS entry to the club night starring
Pama Interntional soul revue live & DJs Alan Handscombe & Ronnie King.
Ticket price: £30


Georgie  Fame is rightly regarded as one of the most important figures in the history of British music. Known as the legendary rhythm and blues/jazz singer and Hammond organist he had three number one hits; Yeh Yeh in 1964, Get Away in 1966 and The Ballad of Bonnie and Clyde in 1967.

A lesser known side to Georgie Fame is that he played a vital and pivotal role in establishing Jamaican music here in 1960s England. Amongst many other things he championed ska (then known as Blue Beat in the London clubs and mod circles), at the hottest night spots. He gave legendary Caribbean musicians Rico Rodriguez and Eddie 'Tan Tan' Thornton their first jobs incorporating  them into his Blue Flames band, after they arrived in the UK from Jamaica. And he introduced a new British generation to the infectious ska rhythm through numerous releases including his famed Rhythm & Blue Beat ep.

We are truly honoured to have one of the true greats of British music performing at The London Intl Ska Festival.

Support for the evening comes from the super Jamaican boogie influenced band King Zepha and more special guests to be announced.

The  London Intl Ska Festival, now into its 31st anniversary year, celebrates all things Ska, from its roots in mento, calypso and rhythm & blues, through its Jamaican originators and onto rocksteady, reggae, dub, 2 Tone, skapunk and beyond. Our 2019 edition features over 100 acts across 16 events in the capital.

This show is Free entry for London Intl Ska Festival 2019 wristband holders.
Festival wristband tickets can be bought http://buytickets.at/hotshotsc...