---
Buy tickets
Ticket Type
Price (€)
Fee (€)
Quantity
---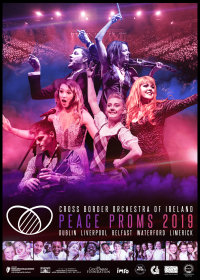 Limerick Proms 2019 - UL Sports Arena - Saturday 3rd March - 2pm
PRE-ORDERED PROGRAMMES TO BE COLLECTED ON ENTRY TO THE CONCERT VENUE
PRE-ORDERED DVDS ARE SHIPPED WITHIN 12-14 WEEKS OF CONCERT TO ALLOW FOR EDITING
This event is an unreserved seating event. Patrons are requested to fill seats in a row.
Doors will open 1 hour prior to event start time.
Your Ticket is issued subject to the Terms and conditions which can be found on www.peaceproms.com. By purchasing this ticket you agreed to the terms of purchase. Tickets cannot be exchanged or refunded after purchases. Please check your tickets as mistakes cannot always be rectified. Tickets may not be resold for more than face value. You are responsible for the care of the ticket after purchase. CBOI reserves the right to refuse admittance to the venue or to remove any person from the venue for reasons of public safety including unacceptable behaviour which is likely to cause damage, nuisance or injury; or for any breach of CBOI terms and conditions. Every effort to admit latecomers will be made at a suitable break in the event, but admission cannot always be guaranteed.