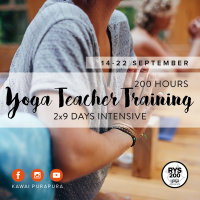 The 200 Hour Yoga Teacher Training is dedicated to helping you establish a solid foundation to becoming an inspiring and skilled teacher. It trains you in the ancient traditional approach to yoga practice and extends your journey into the modern evolutionary pathways of yoga, exploring the richness of the relationship between body, mind and movement. The range and scope of the curriculum is holistic; covering asana, pranayama, meditation, different styles of yoga, lifestyle, home practice and mentorship. You will gain enough in-depth knowledge and understanding of each of the eight limbs of yoga to be able to connect with the origin of yoga and the teacher within.

Course content:
Anatomy and physiology
Spinal awareness and practices for spinal health
Finding the ground; yielding, gravity, breath
Alignment principles
Art of adjustment and sequencing
Pranayama
Mantra and meditation
Yoga Philosophy and Psychology
Teaching skills, communication skills, holding space, finding your voice
Building a home practice
Yoga applications; yoga in prisons, palliative care and other specialized applications
Paths to freedom; Bhakti, Karma, Jnana and Raja yoga practices
The training consists of both, a residential and a home practice component to further develop your teaching and understanding as a teacher. There will be online submissions, using dropbox. Please note that the home practice is an essential part of the training and that timely submissions are expected. Late home practice submissions cause a penalty for administration and marking.
Your daily schedule:
07.00 – 08.15 Morning practice
08.15 – 09.00 Breakfast
09.00 – 09.50 Class review session
10.00 – 11.30 Techniques & methods
11.45 – 13.00 Anatomy & physiology applied
13.00 – 14.00 Lunch break
14.15 – 16.00 Yoga history, philosophy, ethics and lifestyle
16.15 – 18.15 Techniques & teaching methods
18.15 – 19.15 Dinner
19.15 – 20.30 Evening practice / group work / self-study /philoshophy
There is no obligation to stay on-site during your Yoga Teacher Training, however, staying at our smoke, drug and alcohol free retreat, without interruption from the outside world, allows you to fully immerse yourself and adds to the overall experience of your training.
2 x 9 Days Intensive 2019 Two cycles of nine continuous days of instruction, in which the 200 hours are completed, with 6 weeks break in between. This course is particularly designed for people that would like a bit of both; intensive training and time to process.  The home practice component makes up the balance of the training hours.
14 – 22 Sept 2019 (course starts on 13 September at 5pm)
9 – 17 November 2019 (check-in for those with accommodation on site on the 8 November, course finishes on 17 November at 2pm)
Application requirements:
1 year or more regular yoga practice
Motivation to evolve and deepen your knowledge
Commitment to learning with a high level of self-discipline required for home study and home practice components
Ability to read, speak and understand English proficiently
Deposit of NZ$ 500.00 once application has been approved
Required text book
We ask our students to purchase the following core text book prior to the course. It is available at Kawai Purapura reception or online:
Asana, Pranayama, Mudra and Bandha, Swami Satyananda Saraswati, Yoga Publications TrustWe will provide you with a student manual. Additional learning material will be shared via dropbox.
Visit www.yogatraining.nz for all details or contact the course coordinator: yogaeducation@kawaipurapura.co.nz