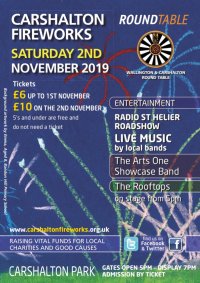 Entrance tickets will only be available on-line until midnight on Monday 28th October.

An annual charity fireworks and bonfire display which takes place at Carshalton Park in Carshalton, Surrey. Last year raising over £25,000 for local charities.
Carshalton Fireworks is organised by Wallington and Carshalton Round Table which is a non profit voluntary organisation. Round Table is a social group for males aged between 18 and 45.
Entry tickets are priced at £6 if purchased up to 1st November & £10 if purchased on 2nd November. Children aged 5 years and under are free and do not need an entrance ticket. All profits from the display are distributed to local charities and good causes.
Entrance tickets will also be available in local newsagents and outlets from mid October.
Our disabled access area (via gate 1, Ruskin Road) has now been closed. Access is not possible to this area of the park. Please see our website for more information.
Unfortunately, we cannot provide any parking, disabled or otherwise.
A charge of 50p per ticket will be made for on-line ordering. This is to cover postage costs and on-line payment fees.
Cancellation
We are involved in Round Table Carshalton Fireworks for a period of at least six months prior to the event taking place. Costs are incurred from the outset and your ticket purchase is invested into the cost of staging the event – everything from pyrotechnics, licensing, parking restrictions, printing, marketing, first aid cover, toilets & equipment hire. Additionally, Round Table always make contributions to the charities who help us on the night from the ticket fees. For this reason, we are not able to offer refunds of any kind. Any profits (if any) after costs will be donated to local charities and good causes.
PS. Round Table Carshalton Fireworks has never been cancelled in its entire 60 year's history.