---
---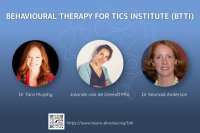 BTTI Advanced Behavioural therapy training (£100)
A one-off event for clinical professionals already trained in behavioural therapy and who have been working with patients with tics. There will be discussion of specific therapeutic interventions, discussion of practical implementation, problem solving, and complex and co-occurring conditions. The Advanced training will cover behavioural therapy for children and adults. During the Advanced training all attendees should be aware that the discussions are sensitive and we wish to ensure we maintain anonymity of patients and any sensitive material discussed.
No recording of any session is allowed.
In order to reserve your place please pay using PayPal or if you wish a PayPal request can be sent to you.
Any questions please email contact@neuro-diverse.org