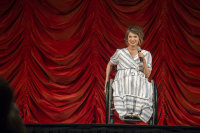 Join funny and inspiring speakers John Bytheway, Hank Smith, and Meg Johnson in this family-friendly, one-of-a-kind conference designed to uplift and motivate all with renewed enthusiasm for life and all its imperfections!
Limited tickets available ... get yours now!
Saturday May 11th 9:00 a.m. to Noon (Check in begins at 8:00 a.m.)
All seating is General Admission.
EVENT DRESS CODE: Suit and tie. Gym shorts. Dresses. Come as you are! Pretty much anything goes at Keep On Rollin'..., but most people arrive in pretty casual clothes.
FOOD: No outside food is allowed in the venue, but don't worry! You'll be feasting with your heart on some pretty scrumptious messages.
AT-THE-DOOR REGISTRATION: If the event is not sold out, tickets will be sold at the event. Prices are as follows: $44 for an individual ticket or $39 per individual for a group of 4 or more.
AGE REQUIREMENTS / CHILDREN: Children who can sit quietly and enjoy 3 hours of speakers (probably at least 8 years old) are welcome to join in this family friendly event. Infants are not allowed with the exception of nursing infants and we've already had several moms and dads holding tiny babies enjoying the conference from their seats and also near the exits as they keep their little ones calm.
Attendance at this event grants permission for your image and likeness to be used in future promotional materials without further agreement with Jumping Turtle, LLC.
No refunds or exchanges. Paid tickets are transferable.
The listed presenters are committed to attending the event; however, circumstances beyond our control might interfere with the program. Don't worry! We will make the best of whatever happens because, dangit, that's just how we Keep On Rollin'...