---
Buy tickets
Ticket Type
Price
Fee
Quantity
---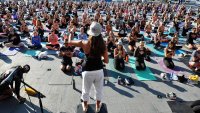 Join Katie B Happyy and Tabu Lanier as well as the Musical Talents of DTO from the Buddha Music Group, Jonathan Coyle, Colleen McGlamery, and representatives from Travis Manion Foundation (Tom Storer and more) we are so excited to see you tomorrow!

Expect vendors to give out fun things 7:45a-8:15am, yoga to start PROMPTLY at 8:30am. (will last until latest 9:45am) Parking around the Midway are all paid lots, or we suggest Uber/Lyft to make it easy. Since it's so early in the morning there will be a lot of street spots, but average parking lot surround it is $10 for 5 hours. See list below for alternative parking lots. Please leave an extra 20 min for parking/registration than you think! Plan to arrive 8am.

BYOM - bring your own mats! (the tarmac gets hot in the sun, so if you have a black mat bring a towel to put on it like a beach towel so your feet don't get too hot!)

Expect a dynamic yoga flow, followed by Tabu style squats, and Katie B style dance party, and more heart warming activities you will never forget.

We currently have 450 signed up, remember if you're friends are coming they must buy a ticket online. If they try to register at the door we will send them to their phones to buy a ticket.

We can raise the vibration of the USS Midway to serve these gold star families of fallen soliders. I can't wait to make this difference with you this holiday.

Want to help? Bring two friends or post on social media that you're coming!

So much love,

Katie B
katie@binspired.life

"If Not Me, Then Who..."
On April 29, 2007, Travis Manion was killed by an enemy sniper while saving his wounded teammates. Today, Travis Manion Foundation (TMF) exists to carry on the legacy of character, service and leadership embodied by Travis and all those who have served and continue to serve our nation. 

Travis' words before leaving for his final deployment to Iraq "If Not Me, Then Who..." are a constant reminder for all of us to live with character and put other people's interests before our own"



Alternative Parking Lots near USS Midway Museum
1. B Street Pier 1140 N Harbor Dr San Diego, CA 92101
2. Broadway / Pacific Highway NW Corner Lot 900 W Broadway San Diego, CA 92101
3. First Allied Plaza 655 W Broadway San Diego, CA 92101
4. Remember, street parking meters are great, too. The event ends at 9:45 so you can be back to your car by 10am.