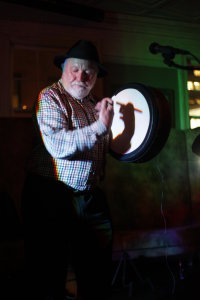 Derek Warfield & The Young Wolfe Tones are known throughout the world for their quality musical presentation of Irish patriotic songs and traditional music featuring top class fiery introductions from their lead singer, songwriter and storyteller, Derek Warfield.
An outstanding singer, stage personality, composer and historian of the music and song tradition, Derek Warfield is a legend wherever Irish roots have been put down Ten years on from the beginning of his solo career, the man often described as 'Ireland's greatest ballad singer' is bringing an old tradition with a young sound to his legion of fans across the world.
The Young Wolfe Tones feature some of the finest Irish musicians and singers from a younger generation and bring guaranteed excitement, fun and passion to every performance.
 Damaris Woods hails from Co. Meath and is recognized as one of the finest tenor banjo players in Ireland, but perhaps more importantly she is also an expert teacher, as many of her pupils in the communities of Kildare, Meath, Cavan and Tyrone will attest
Dublin native Fintan Warfield has toured extensively throughout Ireland, Europe and the United States as well as having numerous recordings and radio appearances to his credit. Fintan is one of Ireland's finest up and coming balladeers and is quickly following in the footsteps of the famous Warfield clan, sharing the same passion of his family mentor, Derek Warfield.
 Irish-American musician Dan Lowery completes the Young Wolfe Tones' line up. Although hailing from Dallas, Texas, his family origins lie in County Cork. Dan's family may have left Ireland generations ago but they brought their love of Irish culture with them and gave Dan the wonderful gift of Irish music. Dan brings a wealth of musical talent to The Young Wolfe Tones and is a multi-talented flute and tin-whistle Player, guitarist and vocalist.
'Derek Warfield & The Young Wolfe Tones' have performed to great acclaim at all major Irish music festivals in the United States including 'The Great American Irish Festival' in New York, the 'Dublin Irish Festival' in Ohio, 'Kansas City Irish Fest' and the largest Irish music festival in the world, 'Milwaukee Irish Fest'. These events regularly see attendances of over 100,000 and are a musical showcase for the finest Irish bands.