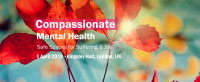 We're excited to announce our next Compassionate Mental Health event -  a one day gathering, and our first in London. Safe Spaces for Suffering & Joy takes place on Monday 1 April 2019 at Kingsley Hall in Bromley-by-Bow, London. 
This one-day gathering is an opportunity to explore alternative approaches for living and working with mental distress. We'll look together at how we can create spaces for people to experience suffering and joy - spaces that are safe, compassionate and balance open-hearted, non-hierarchical relationships with wise boundaries. We'll explore the importance of providing people with a safe and non-judgmental space to explore extreme states, and discover meaning in difficult experiences. We'll consider how to rethink the way we treat severe mental and emotional distress, and ask is it time to move beyond the one size fits all concept of mental illness as disorder for life? As with all Compassionate Mental Health events, we are calling for a more compassionate, trauma informed approach to mental distress. Ultimately we hope to work with others to inspire a new more wholesome psychiatry, with safe, healing mental health services that people want to use when they are in crisis. 
A key message of all Compassionate Mental Health events is choice not coercion - compassion not control, and the understanding that a mental health crisis can become a meaningful turning point and catalyst for change. Along with many other critical voices - we are calling for a radical shift in the way we understand mental health, changing the script, challenging stigma and raising expectations.

Speakers and facilitators include:
Will Hall, mental health advocate, counsellor, writer, and trainer - recognised internationally as an innovator in the treatment and social response to psychosis. Will has emerged through his own extreme states of madness to advocate for the recovery and trauma informed approach to mental illness and a harm reduction approach to medication. 

Dr Joseph H. Berke - psychotherapist and pioneer of the medication free therapeutic community, Joe is a navigator and guide for many people who have been on that journey. 
Akiko Hart is Chair of the International Society for Psychological and Social Approaches to Psychosis UK (ISPS UK), a Committee Member of the English Hearing Voices Network and Hearing Voices Project Manager at Mind in Camden. She has previously worked as the Director of Mental Health Europe. Akiko has a keen interest in how peer support can sit within statutory services and promote real change.

New Speakers are joined by core Compassionate mental health team members, Malcolm Stern, Andy Bradley and Brigid Bowen. 
Venue 
Each gathering has been held in a venue that is therapeutic in its own way. Kingsley Hall has a radical 90 year history as a centre of peace activitism, progressive ideas, social justice and community engagement, and in 1965 became the home of RD Laing's famous and controversial anti psychiatry experiment, using the Hall as an alternative community for treating people affected by mental health crisis. The aim was to create a model for non-restraining, non-drug therapies for those people seriously affected by schizophrenia. The idea of starting this type of community was an initiative suggested by Mary Barnes a former nurse and first resident as patient.
Scottish psychiatrist, Laing, had a huge influence on the psychiatric survivor movement, and was a cultural icon, although not one without personal controversy.  Joseph Berke moved from the United States to join Laing at Kingsley Hall, where he became famous for his work with Mary Barnes. 
Many believe we are yet to fully build on the legacy of Laing's work - to meet people in extreme states as equals, and help them discover meaning in their madness and a way back out again.

Will Hall says: "For Laing the point is not to adjust people to a society that has normalised violence, but to help them to understand where their response and madness has come from and help them move through it..." 
 Listen to Will Hall's podcast on Madness Radio about the Legacy of RD Laing 
And watch here this Life of Joseph Berke 
Who is it for? 

The event is for anyone curious about compassionate approaches, including people and families with personal experience, front-line staff, commissioners, managers, clinicians, GPs, policymakers and Third Sector staff. Together we'll explore new ways of thinking about service provision, and how we care for ourselves and each other within our families, communities and workplaces. 

Join us in changing the conversation around mental health, challenging stigma and raising expectations - by moving away from labels that frame mental distress as disorders for life, and towards safe, healing mental health services that people want to use when they are in crisis.

Register Today

Register today and join us for this unique event. 

Our one day programme will be a mix of experiential sessions and a chance to exchange ideas, lessons learned and best practices - with plenty of opportunities for participation, reflection and networking.

It will also be an opportunity to find out more about Compassionate Mental Health – see the programme from our last event in November 2018. 

Book Now...
Some limited bursary places for people with personal experience on a low income, please contact Brigid Bowen ask@compassionatementalhealth.co.uk for more details 

See more at http://compassionatementalhealth.co.uk/
WEBSITE http://compassionatementalheal... https://www.facebook.com/compa...
TWITTER @CompassionMH https://twitter.com/
#CompassionMH

What do people say?
"Exceptional. The fact people had travelled from far and wide shows the high regard the event was held in, and also the pressing need to change and the delivery of compassionate mental health services."
"Above all people were able to release shame , guilt and silence around their stories and to find like minded community."
"Such a blessing. An oasis. I felt privileged to be a part of it. Beautifully organised, to the last detail. The professional delivery of the event was outstanding and the supporting literature of excellent quality."
"You have created a unique and invaluable contribution to the future of mental health. My daughter took her own life two years ago. I believe if either she or I had had access to the material and the diverse community you have put together, there could have been a very different outcome."

Cancellation refund policy:
Registrations cancelled more than 45 days before the event will be refunded 80% of the registration fees.
Registrations cancelled less than 45 but more than 30 days before the event will be refunded 50% of the registration fees.
Registrations cancelled less than 30 days before the event will not be eligible for a refund.
Compassionate Mental Heath reserves the right to cancel the event due to events outside its control (e.g. illness of a speakers). Every effort will be made to give participants as much notice as possible, although this may not always be possible in some circumstances.
Photography and filming policy:
There will be discreet photography and filming taking place during the event (but not during workshops) which we will use for public information and publicity purposes. Please let us know on the registration form if you do not consent to be filmed or photographed.