---
Buy tickets for The Merry Ploughboys
Ticket Type
Price ($)
Fee ($)
Quantity
---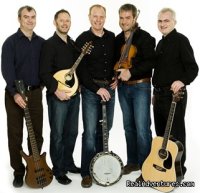 Named after the ballad of the 1916 rebellion, The Merry Ploughboys are a traditional folk group from Dublin, Ireland, who have been "singing it like they mean it" since 1989 with gutsy and engaging vocals backed by arrangements of fiddle, guitar and uilleann pipes. The repertoire spans humorous old Dublin music hall and street-songs, classic ballads from 19th and 20th century Irish history, timeless songs of emigration and romance, and peppered with traditional Irish dance tunes and their own original material.
The Ploughboys are fundamentally about the Irish song tradition, and influenced by the collective legacy of the Irish folk music revival scene of the 1960s-1980s. Their sound has the raw authentic energy of the classic balladeer as they work effortlessly through a packed set list that is often funny, compelling, engaging, exhilarating, and always entertaining.
Performing are brothers Liam Heneghan - guitar and Eoghan Heneghan - bass guitar, with Dermot Daly - fiddle, and Tom Shanahan - uilleann pipes & whistles.
The band has recorded numerous albums of traditional and original songs which are available online and iTunes or can be streamed on Spotify. CDs are also available at the shows.