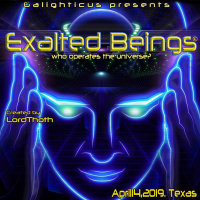 All through out the Universe, there are complex groups and hierarchies that govern all of what shall be. They have been given the power to allow growth and destruction of worlds, as well as evolution and empowerment to those who seek or de-pixelation to those who seek to pervert the Creators power.
The offices held by Exalted Beings is exactly where monarchy, government and letter agencies pattern their very existence from. The blue print of everything on every dimension and reality, realm and heaven are determined by these advanced powerful beings who are older than the creation of this galaxy and the universe itself. The intelligence held by them is staggering to consider even with the most powerful computer.
The Exalted beings taught about in this seminar will be the Gods of light who serve the movement of the Galighticus covenant on Earth.  We will take a closer look at their origins and purpose of being as well as direct ways in which we should approach them and how to align with them. There are 66 which are 4+4+4=12 that is the number of Lord Thoth and ArchAngel Michael's alliance. This will be a 4 part series that will offer a different group of  14 Gods to explore, per seminar, as well as the empowerment that leads to realizing their true power and being able to wield it on Earth to catalyze the changes needed to make our world a better place in which to dwell. This is indeed the mark of a true citizen of Earth, who's merits are weighed and rewarded handsomely.
We will also offer a specific set of Celestial Sequence and Words of power that are conduits to commandeer the limits of our dimensions strong holds.
IMPORTANT!!! Please read carefully:
We offer special VIP, PLATINUM & DIAMOND tickets if you would like to enhance your seminar experience.  Each ticket upgrade is a separate purchase from the general admission ticket.  
Please note: You may upgrade your ticket anytime AFTER the purchase of a General Admission ticket.



Ticket Packages:

VIP Upgrade includes:
*Your choice of: Khord Cutting, Celestial Touch OR Divine Inscription
*If you would like have two modalities instead of one for your ticket, please purchase the VIP Modality add-on
*Early Access to seminar room for seat selection
*Early Access to Breakfast & Lunch Buffet
*Priority Access to Sri Master Gano Grills during breaks

PLATINUM Upgrade includes:
*Everything in the VIP ticket
*You get Khord cutting, The Celestial Touch and Divine inscription, plus an added bonus gift
*A small gathering with Sri Master Gano Grills on the evening of Saturday April 13th 2019 @ 8p.m.
DIAMOND Upgrade includes:
*Everything in the VIP & Platinum tickets
*On stage accompaniment with SMGG
* A  copy of the seminar with a NON-DISCLOSURE AGREEMENT that must be signed
*Monday brunch with the Galighticus Family as well as Saturday nights production meeting
*30% off the next seminar

You do not have to attend any prior event to participate in this seminar.  We welcome all levels of spiritual education.  The only thing we require is that you come with an open mind and a peaceful heart.  We look forward to meeting you all!
Benefits of Attending:

Learning about Celestial Beings in a way you can't find elsewhere

Sequence and Words of Power that will allow you to control more of your destiny

Meet your soul family from lifetimes of incarnating on Earth

Empowerment, Expansion, Enrichment & Enlightenment

You have finally found your true spiritual home and Master Teacher to take you from where you are now to as far as you are willing to go

The possibilities are endless when you choose to be taken out of the confines of human limitation.  You are on the precipice of a life changing experience with this Divine event!  
Our GALIGHTICUS community has been given many modalities that will assist in the world's ascension as well as enlightenment.  We are the only community on the planet who has a covenant with 22 of the universe's most important Divine Beings plus 44 more.
SRI Master Gano Grills is a WORLD CLASS Spiritual Advisor and SRI (spiritual PhD - a title only given by the Gods) Master Teacher to many who are seeking enlightenment. 
Modality Descriptions:
DIVINE INSCRIPTION
The Divine Inscription Is a rite that only an Exalted Being can perform. During the days of the last Golden Age that Earth was privileged to see, Lord Thoth/Tehuti gave divine inscriptions to the souls of his students, adepts, devotees, and high priests.  On certain occasions, he would even give them to the gods that he had a close relationship with, of which there were many.
This sometimes takes place in the spiritual realm zone of which there are many. One has to achieve a great karmic credit in order to receive the divine inscription.  The divine inscription is a celestial energetic signature that is dawned upon the soul and recognized on every dimension, world, or heaven. It is somewhat of a Passport that higher beings would recognize and interface with happily because they know that the wearer is an individual that has received ase' [Divine signature] favorably.
This rite is included for All Platinum & ticket holders. And it is one of the options for VIP ticket holders. It can also be purchased separately for all those with VIP tickets wishing to have this rite in addition to either Khord cutting or Celestial touch.
Warning: This rite can cause great emotional travail and release.


CELESTIAL TOUCH
Celestial touch is a portion of divine energy that is placed in your body by Sri Master Gano Grills.  Your soul will take that energy and utilize it to create an arrangement, circumstance or an event in your life when it sees that you deserve it.  This will be something that enhances your life in a powerful way.

KHORD CUTTING
Serves as a way to freedom from old energetic ties that do not serve the divine destiny path of the recipient. 
CLICK HERE FOR DISCOUNTED HOTEL ROOM RATES!

Must book room by 3/22/19 to secure this discount.



Please Note:
You must be 18 & over to attend this event.  Breakfast starts at 8am, the seminar will begin at 9am.  Lunch is only included with the VIP, Platinum & Diamond packages.  Seminar start time is subject to change.  We will notify you via email of any changes.  Please be advised that the seminar is a divinely orchestrated event, therefore, it is impossible to predict exactly when it will end.  We advise those that plan to attend make travel arrangements that will allow them to stay in the venue until  at least 10pm if we go over the time listed so you may get all information presented that day.  The Galighticus team reserves the right to refuse entry & issue refunds for tickets at our discretion, however, in most cases store credit will be issued if you are unable to attend the event after purchase of tickets/upgrades. The information and  modalities we offer are not a substitute for medical attention as prescribed by a physician in some cases.   We are not responsible for any illness that may occur due to medical neglect.


Thank you for your interest,
SRI Master Gano Grills & the Galighticus Team
For more information about our movement visit:
Galighticus.com
FOLLOW US!
YouTube.com/Galighticus
Facebook.com/Galighticus
Instagram & Twitter @Galighticus