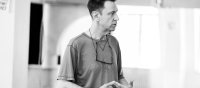 In this five-day workshop, Co-Artistic Director Lee Simpson looks at how Improbable brings the philosophy and practice of improvisation to performance improv, devised theatre, plays, operas and social activism. 
Improbable's approach to improvisation has created work on a wide range of scales and in many different forms. It also underpins every aspect of how we run the company. Improbable have developed this philosophy and practice by adapting and creating hybrid techniques from both within and outside theatre, as well as through originating our own processes. It is this approach to improvisation and theatre making that will be the focus of the workshop.
Over the five days we will work on, among other things, improvising live onstage, various devising techniques, creating and shaping narrative, Open Space as a rehearsal tool, Process Work and improvisation with a script. In other words, it will be a chance to spend time working through an Improbable process and take whatever works for you away to your own practice.
This workshop is for anyone interested in developing their improvisational experience, whatever the form in which you work – you could be a performer, director, designer, writer, improviser, actor or none of the above. This will be a supportive environment that will attempt to be responsive to the individual and collective needs of the group. There will not be a teaching method as such, but a series of invitations to step into a space of not knowing, where you are encouraged, supported and given strategies to notice, nurture and make manifest the scene / the story / the show that is already happening, but that hasn't yet appeared in the world. 
ACADEMIC INFLUENCES:
This is a workshop on Improbable's approach to improvisation, which has been shaped by the work of Keith Johnston, Viola Spolin, Arnold and Amy Mindell, Michael Checkhov, and Harrison Owen. No knowledge of the work of these great teachers is required (or necessarily helpful). We provide this list in case it helps you imagine the sort of landscapes we will be traveling through.