---
Buy tickets
Ticket Type
Price (£)
Fee (£)
Quantity
---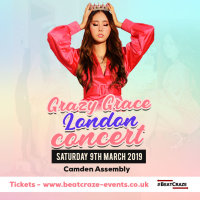 BeatCraze Events presents Grazy Grace live concert in London!
Ticket Categories:
General: £20 (includes hi-touch + Q&A  session with Grace)
VIP: £45 (Early Entry + Meet & Greet + Signing Session + Q&A Session + Group photo of 5)
Tickets on sale: January 12th at 12PM GMT
Tickets also available at Ticket web UK: https://bit.ly/2AKxviW

Grazy Grace is a passionate and talented singer-songwriter from Seoul, South Korea.
Growing up in New York, Grazy Grace delivers all types of music genres to her audience, from heartfelt self-composed tracks to catchy dance songs. She is now working on a new hit single and an album for early 2019 as well as an exciting showcase in London on March 9th.
In 2016 she officially debuted with her first single "I'm Fine" followed by tracks "Trick Or Treat" and "Zombie High" which helped her gain global popularity through her crazy fashion and catchy hooks. Soon after she appeared in the hit Korean TV show "Unpretty Rapstar" where she showcased her unique rap abilities.
Alongside music, Grazy Grace creates fun yet insightful story-time YouTube videos which she began only 4 months ago and has now accumulated over 4 million views!

BeatCraze Events:
Instagram: https://www.instagram.com/beatcraze/
Facebook: https://www.facebook.com/BeatCrazeEvents/ 
Facebook event page: https://www.facebook.com/event... 
Twitter: https://twitter.com/BeatCraze_Ent

Enquiries: info@beatcraze-events.co.uk