---
Buy tickets
Ticket Type
Price ($)
Fee ($)
Quantity
---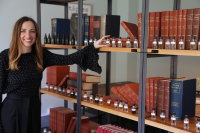 Come on a sensory journey and discover, play and create with us over an hour and a half.  You'll leave with a new generation fragrance, luxury-crafted, uniquely you. 
What is a new generation fragrance? Scent that's infused with flower essences and the latest cannabis science. Read all about our design philosophy and club here
Discover
Over 50 naturally derived top and middle notes, the highest quality essential oils, resins, isolates and compounded natural isolates in the world. We say no to parabens, glycols, petrochemicals or synthetics.

Play 
Enjoy time learning a blending technique and learning how to critique your own designs. This is the part that's really different to other workshops you might attend, you have complete creative freedom. Tap into your inner child and connect with like-minded people over Scent Soul and Science.

Create 
This part is serious fun, as you need to concentrate and figure out how to scale your design. Expect to act mindfully here and forget about all your worries as you concentrate on your provided perfumery equipment and bottling your design. 

What you get 
Creative guidance from Fragrance expert, Samantha Copland
Access to a sensory lab of over 50 natural essences, 19 Flower Essences & 14 Scientific Terpene Blends - we have Australasian Botanicals too!
All the tools & materials you need to create your very own unique perfume
You select 3 scent vials (12ml) of your favourite essences and take home a roll-on 10mL Eau de Toilette.

Who is your host? 
Samantha Copland is trained by world renowned alchemist Mandy Aftel. Holding a science degree in Pharmacology and Psychology, certified in Australian Bush flower essences, aromatherapy, plant shamanism and Ronga Maori Medicine both the art and science of perfumery is covered.