---
---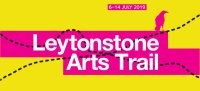 This is the Artists Registration Form for the Leytonstone Arts Trail 2023.

Welcome - The Leytonstone Arts Trail is open to all who wish to participate.
Your exhibitions and displays should be viewable during the first two weekends in July 2023.

To take part...
- First find and decide on your venue which must be in the Leytonstone or Leyton area.
Art work can be exhibited in various local businesses, cafes, community halls, churches, schools, studios etc.
- If the premises are not your own, seek permission from the owners/ managers.
negotiate with them about the best way to hang/display your work. 
- Alternatively you can use the gardens or windows of your own homes.
- Register your venue, exhibition or event on this site, using the BUY TICKETS tab
(Please limit yourself to no more than two registrations - Thanks).
- Deadline for registrations by 1st June 2023.
Registration costs £15 which will include your venue on the online map for the Trail.

If you have an image that we may use on social media for promotion purposes - please e-mail that to the Organisers: mail@leytonstoneartstrail.org

You display your artwork at your own risk.
Should any damage occur to the premises where you exhibit, you are responsible for making good that damage.


LOCATION
Various Leytonstone & Leyton, E11 & E10