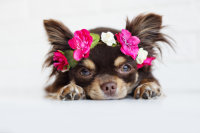 🌻The Time Is Coming! Are You Ready? 🌻
The World's Original & Best Festival For Chihuahuas Is Back With A Bang In A Summer Of Love Special
Now in its fourth successful year, Haus of Chihuahuas brings you the spectacular 2019 Fest of Chihuahuas.  
It will be a truly unforgettable day for chihuahuas and their adoring humans, packed full of our signature unique entertainment and immersive activities. 
Put on your hippy hat, beads and flowing festival attire and come with an open heart because we are making 2019 officially the Summer of Love for chihuahuas, their owners and their adoring fans alike. 
There will be flower power and stardust at in the grounds of the beautiful Royal Windsor Racecourse as we bring together hundreds of chihuahuas from all around the world for a celebratory day in a safe environment. 
Fest of Chihuahuas, in association with Chihuahua Rescue UK and the world renowned Wild at Heart Foundation, raises awareness and funds for dogs in care or dire situations. Chihuahuas are one of the fastest rising breeds that are in need of urgent care following neglect or abuse by owners who had wrongly assumed that these small, but mighty, dogs belong in a handbag. 
The day will include exciting performances from Fest favourite, television star Lucky Chihuahua and our newest star performer, and last years 'King of the Ring', Toastie the Chihuahua. Both are outstanding stunt dogs with incredible talent proving that size doesn't matter. 
There will be an official Guinness World Record Attempt and we will put on our much adored and anticipated Chi Idol with celebrity judges and a range of huge and varied prizes. Add to this free Doga sessions, have a go agility, our arts corner where you can have a customised picture of yourself and your dog, a specialist chihuahua themed marketplace and much more.
Not to forget our brand new innovation of a unique 'Dogs of Instagram' corner where you can have your picture taken with Instagram's most followed and loved stars, on site talent agents ready to spot their newest models and a the equally new holistic area where you can have you dogs paw read, find out about their past lives and how to massage their aching bones after a long walk! 
Every dog – and its owner and friends – truly has its day at Fest of Chihuahuas. We pride ourselves on our wonderful community who turn out year upon year to meet old and new friends and celebrate our favourite breed. Don't miss out and save the date early! 
Keep up to date with news and announcements at our official event page and our Haus of Chihuahuas Community Facebook group where you can join the tribe, share pictures and talk to hundreds of our past happy attendees.
Attendee Reviews:
We will be coming back again and again. This is one event that chihuahua lovers should not miss - so many happy dogs and owners all coming together and enjoying each other.
This was a great event for us to come to and a great experience for Jasper. It was definitely worth the 800 mile round trip and we will be coming again next year.
Spectacular day! Wonderful dogs! Met so many cool people with their pets!
OMG if heaven was on earth this would be it!!!
I love the community feel at these events, you don't get it anywhere else and that is what makes the day so special. The team work hard to put on a fun, varied day that gives back to some amazing animal charities
What The Press Said:
Daily Mail 
Brilliantly Bonkers, 
Time Out
There's a place for everyone and this is the place for chihuahua lovers 
Dogs Monthly
Great to see these little dogs getting the spotlight they deserve, what a spectacle - chihuahuas for miles in beautiful, lush surrounding
Windsor Gazette
Where else could you get a boat with hundreds of chihuahuas across the thames to a race course where there are even more waiting for you. Chi Idol is fantastic, it needs its own TV show.