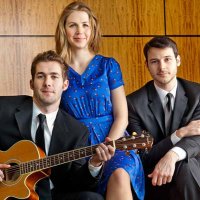 A Band Called Honalee
Peter, Paul & Mary Inspired Folk Trio
Saturday, October 28, 2023 at 7:30 pm
VIP Seating: $30;  Main Floor: $25;   Wheelchair/Companion: $20;   Balcony: $20
#3 in our 4-event Center Stage Series - Buy all 4 shows and save $20!   (Must call 330-481-9105 to purchase the Series and receive the discount)
To order tickets by phone, please call 330-481-9105

NO REFUNDS OR EXCHANGES

A Band Called Honalee is a tribute to the music of Peter, Paul & Mary, and their friends in the folk movement of the 1960s. Musically accomplished, interactive and energetic, their show allows audiences to enjoy Peter Paul & Mary's timeless music onstage once again.  Their mission is to share this uniquely American music with new audiences, while rekindling the passion of life-long fans. Most of all, they celebrate the power of these songs to inspire people and bring them together once again. 

Their show also includes songs by Bob Dylan, Simon and Garfunkel, Pete Seeger, Joan Baez, Joni Mitchell, The Mamas And The Papas, The Weavers, Judy Collins, and other folk and folk/rock artists.

SONGS INCLUDE: If I Had a Hammer, Blowing In The Wind, Puff The Magic Dragon, Leaving On A Jet Plane, Early Morning Rain, 500 Miles, If I Had My Way, The Times They Are A'Changing, The Lemon Tree, I Dig Rock And Roll Music, Where Have All The Flowers Gone?, Don't Think Twice It's Alright, Both Sides Now, 59th Street Bridge, For Loving Me, The Wedding Song, Turn Turn Turn, Mr. Tambourine Man, California Dreamin', M.T.A., This Land Is Your Land, Blackbird, The Great Mandala, Scarborough Fair...and many others!