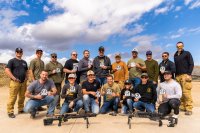 Location: North Springs Shooting Range - Price, Utah. Map

Skill Level: Beginner to Intermediate
Class Size: 16 students
Before booking, please read carefully the prerequisites below and our cancellation policy at the bottom of the page.
This course introduces students to the mindset, skillset, and equipment necessary to achieve precision and accuracy at long range. Students will become proficient at using a ballistics app to generate a shooting solution for any combination of rifles, ammo, and environmental conditions. Most importantly, students will master the fundamentals of marksmanship and their ability to maximize the capability of any weapons system. Students are expected to arrive prepared with their rifles, optics, ammo, and equipment set up according to the prerequisites listed below or opt for one of our complete rental packages that includes everything you need. If you do so, we guarantee each student will be able to effectively engage 12 - 24" targets out to 1000 yards and complete the 1000-yard Milk Jug Challenge in class. If you have any concerns about your equipment meeting these requirements, please contact us right away for assistance.  If time allows, students will have the opportunity to shoot 1200 yards, 1500 yards, and 1 mile after class on Saturday evening and even attempt our Milk Jug Challenges at these ranges for an additional fee of $20 per 10-shot attempt. 


Past Student Reviews:
"I've always wanted to do the MJC but was hesitant about my abilities. This class walks you step by step building your skillset and confidence culminating in the 1000yd MJC. Come join the club!" - Doug, Saratoga Springs UT 2020
"As a big game hunter, I took this class to learn how to extend my effective range. I loved that Bryce was able to help me maximize the capability of my existing equipment, match the correct ammunition to my rifle, and then adjust my turrets correctly for any distance and condition. I learned how to properly interact with the rifle and be confident in my shots by removing the "human elements" that cause inaccuracy. I feel like I am shooting at a whole different level." - Brock, Syracuse, UT 2020
'I grew up shooting firearms and always considered myself a good shot but when it came to rifles with optics I didn't know much beyond point-and-shoot. LRSUs Introduction to Long Range Shooting class with Bryce changed all of that! I entered the class knowing very little and left being able to confidently adjust for distance and wind. By the end of the class, I had hit targets out to 1 mile! (1,760 yards)". - Kevin Moore, Salt Lake City, Utah 2020
"I'm new to long-range shooting and this class helped me to better understand what equipment to buy and how to use it to achieve accuracy and precision. To hear that "ding" and consistently hit targets at 1000 yards, including the milk jug, is exhilarating. Now precision shooting is fun rather than frustrating and I can't wait to get out to practice. I definitely recommend Bryce's long-range precision shooting class. - Larry Landen, Highland, Utah 2020
"LRSU's Intro to Long Range course taught me the fundamentals to greatly improve my accuracy and consistency. I had never shot past 300 yards and was able to make consistent hits at 1000-yard targets. This course gave me the confidence to expand my long-range shooting capability. 100%, I will be back for another class" - Chris Hart of Action Target, Provo, UT 2020
"It's so cool to learn exactly how to shoot. I just went from a complete rookie to be hitting an 18" target at 1000 yards. This was the most fun I've had in a long, long time." - Wally, Provo, UT 2019
"Within 4 hours we were hitting every 100 yards out to 1000 yards. 300, 400, and 500 yards seem like nothing now". - Jeff, Park City, UT 2019
"There wasn't a single part of the class where I wasn't having fun and learning something new. Hearing that "ding" at 1000 yards was so awesome, I'm still grinning". - Cade, Salt Lake City, UT 2019
Schedule:

Friday - Classroom Lecture, Setup & Zeroing 8:30 am to ~ 7 pm.
8:30 am - Check in at the main office & pay the $10 per day range fee to North Springs
9:00 am - Lecture begins
12:30 pm - 30-minute break for lunch (Please bring a sack lunch and plenty of snacks and drinks)
~ 5 pm to 7:00 pm - Zeroing & equipment setup at the 100-yard range. Once you confirm your zero you can leave for the day.
Day 2 - Range Day 8:00 am to ~ 5 pm
8:00 am - Meet at the 100-yard range to shoot drills
10:30 - Move to 1000 yard range, engage targets 200 - 1000 with your partner
Midday - Lunch at your leisure (Please bring a sack lunch and plenty of snacks and drinks)
2:30 pm - 1000-yard Milk Jug Challenge
~ 4:30 pm - Class photo and recap. Formal instruction ends.
5:00 pm to dusk - Open range. Students are welcome to continue shooting and enjoying the range until dusk including shooting out to 1 mile at the Barnes shed at no cost.  Our staff is generally on hand to officiate the 1200, 1500 yards, and 1 Mile Milk Jug Challenges for $20 per 10-shot attempt.  You must complete all 10 shots is under 10 minutes with no sighter shots.  Your first shot must be at a milk jug.  
Required Equipment:
We carry many of these items in-house and can generally meet or beat any online price for them. Please email us at info@longrangeshootersofutah.com and we'll help you get set up for success.
1 - Eye and Ear Protection.  It's up to you to choose PPE that fits and works best for you.  Muffs often have better sound quality and protection but may interfere with your cheek weld which may reduce their effectiveness.  
2 - Rifle: Must be in safe, working order, and capable of shooting a 1 MOA or better 5-shot group at 100 yards (5 shots inside of a 1" circle).  Please test your rifle and ammo well before class to ensure it meets this standard.  Email us a photo of your 5-shot group if you're unsure.  
RIFLE RENTALS: We have a limited number of standard and premium rental packages available. Both include a precision rifle, optic, bubble level, sidewinder DOPE card, bipod, rear bag, shooting mat, and 100 rounds of match-grade factory ammunition. Additional ammo is available for $45 per box of 20. Standards rentals are LRSU Tikka Builds in 6.5 Creedmoor with Vortex Viper PST Gen II FFP 5-25 optic for $299. Premium rentals are custom rifles chambered in 6.5 Creedmoor with Leupold Mark 5HD 5-25 optics for $399.
3 - Match-Grade Ammunition: Specifically designed for long-range precision and will maximize the precision of your rifle. Match ammo will exclusively use high ballistic coefficient boat tail bullets and is extensively tested to ensure the most consistent muzzle velocity from shot to shot.  Handloaded ammo is permitted as long as it does not exhibit signs of high pressure (ejector marks, stiff bolt lift, and blown primers).  Armor-piercing (green tip), incendiary, tracers, and HE rounds and NOT ALLOWED at the range or in the class.  
 We recommend Hornady Match or Hornady Precision Hunter primarily but Sig Elite Match, Prime, and Federal Gold Medal Match are solid. Please test your rifle and ammo well before class to ensure you can shoot a 1 moa or better 5-shot group at 100 yards. If not, call us. 
 Quantity: Most students will use roughly 100 rounds during class. Those who stay after to shoot out to a mile or attempt the longer milk jug challenges will want 140-160 rounds.  If you're having difficulty sourcing ammo try the following websites: ammoseek.com, primeammunition.com, unknownmuntions.com, coppercreekcartridgeco.com, Brownells.com, Creedmoorsports.com, and Natchez.com.  As a last resort, we do carry small quantities of 223, 308, 6mm Creedmoor, 6.5 Creedmoor, 6.5 PRC, and 300 PRC to help supplement students as needed.  
Magnums & Large Calibers (7mm, 300 WM, 300 PRC, 338, etc.)... There are no caliber restrictions for the course however we generally advise against using a magnum for the bulk of the course for four reasons.  
Availability of match ammo.  It's much more difficult to source match ammo for larger calibers. 
Cost.  For what you'll spend on 100 rounds of match-grade magnum ammo you would literally save money by renting one of our 6.5 Creedmoor packages which you'll likely enjoy shooting much better due to the mild recoil.  
Recoil.  The ideal precision rifle has zero recoil allowing the shooter to spot his own bullet as it travels to the target and make corrections.  This is extremely difficult with a magnum unless it weighs 16 lbs+.  Also, the additional movement will occur before the bullet has left the barrel and negatively affects your group size.  This is why many manufacturers will not guarantee the same level of performance for the same rifle if chambered in a magnum cartridge.  
Overkill. The bulk of the class will be 100 to 1000 yards and a magnum just isn't necessary.  I'd shoot the bulk of the class with a mid-caliber and maybe bring our the magnum for the extreme long-range milk jug challenge after class.
4 - Quality optics with external turrets. Examples that we carry in-house:  Leupold Mark 5HD 5-25 - $1999 - 2599 (Best Value),  Nightforce NX8 $1950-2500, Nightforce ATAC $3000-3950, Vortex Viper PST Gen II 5-25 FFP - $899, and Vortex Razor HD Gen 3 $2999
5 - Bubble Level for your optic. Video Demonstration Example: 30mm & 34mm Vortex Bubble Level - or - Rail Mounted Level 
6 - Quality bipod with pod lock capable of canting from side to side so you can level your rifle/optic.  Having a steady foundation is pivotal to creating precision and it starts with a quality bipod.  TRUST US, DON'T SCRIMP ON YOUR BIPOD!  
Bipods we carry & recommend: 
Harris BRMS 6-9" or 9-13" with an aftermarket pod lock installed.  Mounts to a sling swivel stud - $125 from LRSU with our pod lock installed 
8-11" or 10-14" Evolution Bipods - Made in Utah. Patented interchangeable/stackable carbon fiber legs. Mount to Picatinny & Arca rails. - $349 - 495
MDT Ckye pod - $599 - $999
Accutac - $349+ 

Bipods to avoid: Caldwell, UTG, Magpul, Leapers, Swagger, or any knock-off of a Harris or Atlas from Amazon.   They may look the same but they are generally made in China and lack the quality and rigidity you want. There are dozen of knockoffs of the Harris bipod made by various companies like Caldwell.   Knock-off Atlas bipods from Amazon.  Magpul bipods have also struggled to provide the level of stability you will want to maximize precision. 
7 - Rear bag. We will have various bag options and sizes for you to try and then purchase at the class. If you want to purchase some options before class we recommend the Medium Sand Sock Gear, Armageddon Gear Schemium GameChanger standard or heavy fill (Shooters 200 lbs+ or barrel chested) or Pint-Sized GameChanger standard or heavy fill, (lighter bodied shooters.)
8 - Download either the Shooter Ballistics App ($9.99 Has a Blue & White Circular Target icon) - Apple iOSAndroid. - OR - Applied Ballistics $29.99 Apple iOS Android. The Shooter app is inexpensive and very user-friendly but may require that you pull bullet data from the internet. Applied Ballistics is not as user-friendly but has the huge advantage of offering custom drag models for all popular bullets which is an additional in-app purchase$9.99 for each caliber.
9 - Adjustable Cheekpiece. Options:
10 - Sidewinder Drop Chart (Recommended) - These small rifle-mounted drop charts put your drop data front and center next to your optic eliminating the need to break a position and consult your phone, notebook, or hand to see your D.O.P.E. Just $30 on our website
11 - Fix-It Sticks torque limiter & tool kit (Recommended) - A quality inch/pound torque limiter and tools are necessary to properly mount your rifle scope in accordance with manufacturer specifications. Damage from improperly torqued rings is the #1 warranty claim for optics companies. Video - Buy Here

What happens after I register? 

You'll receive an email from DocuSign asking you to electronically sign an LRSU Liability Waiver.  Included in the DocuSign will be a class information sheet (schedule, discounted hotels, map to the range), and the required equipment checklist.  
Youth: Students under the age of 18 may attend but must be accompanied by a parent or guardian, and must demonstrate safe handling of firearms. Please contact us before registering at info@longrangeshootersofutah.com

Policies

**Cancellation Policy: All cancellations must be made in advance via email to info@longrangeshootersofutah.com.  Students who do not show up to class and did not provide prior notice will NOT be issued a refund or credit to a future class.  No exceptions. 
- If notice is provided 60+ days from the class start date, the student will receive a full refund less any transaction fees - or - a credit towards a future class within 365 days of the original course dates (subject to availability).  
- If notice is provided between 31-59 days prior to the class start date, the student will receive a refund less a $120 cancellation fee.  
- Inside of 30 days no refunds will be provided. 

Please ensure your travel plans and availability before signing up. Should an unforeseen event outside of our control keep LRSU from reasonably facilitating the class, a full refund or credit towards a future course will be provided.  Updated February 12th, 2023

**Weather Policy: Utah weather can be extreme and changes quickly. It's critical that you come prepared for the worst possible conditions regardless of the weather forecast. The majority of the firing line is covered and walled on three sides which offers adequate protection from most weather but it is the student's responsibility to come prepared, including with layers and rain gear. Should the weather conditions become dangerous (ie lightning) and prevent us from completing at least 50% of the range day curriculum we will extend the course into Sunday. If that is not possible, students will be allowed to attend the range day portion of a future course.