---
Buy tickets
Ticket Type
Price ($)
Fee ($)
Quantity
---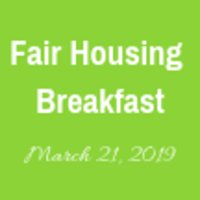 Join us for the 6th Annual Fair Housing Breakfast, a benefit to support our mission of ending discrimination in housing and public accommodations and promoting accessible, integrated communities. 
Fred Freiberg, Executive Director for the Fair Housing Justice Center in New York, will join us as our 2019 Guest Speaker.  Mr. Freiberg is one the nation's leading experts on the use of testing as an investigative tool to enforce civil rights laws.
Breakfast begins at 8:30 AM and our program begins promptly at 9 AM and includes the FHC Board of Director Award presentation, Mr. Freiberg's talk, and a Q & A.
Tickets can be purchased by check - made out to "Fair Housing Center" - or online here. The cost to attend is $50 for FHC Members (who've paid dues to the FHC within the past year) and $75 for Non-Members. A portion of your ticket purchase is tax deductible.

If you would you like to check your membership status or become a member now, please call 877-979-FAIR or email Kristen at kcuhran@fhcmichigan.org. You can become a member online using this link for PayPal. Membership Info:
Individual/Household – $35 or more
Professional – $50 or more [includes your name and organizational affiliation]
Organizational/Business – $100 or more
Thank You to our Sponsors (1/8/2019): 
Gold Sponsors:


Silver Sponsors:



Bronze Sponsors:
Ann Arbor Area Board of REALTORS
Bank of Ann Arbor
Fifth Third Bank 
Flagstar Bank
Michigan Realtors 
Michigan State Housing Development Authority
Old National Bank
Reinhart Realtors
Zingerman's Community of Businesses
Interested in sponsorship? Click here for details.