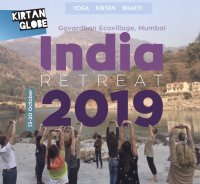 This retreat is perfect for people new to yoga, kirtan and bhakti wisdom as well as those already experienced. It provides a sacred space for you to relax and rejuvenate in the serene and untouched foothills of the Sahyadri mountains, just a two hours drive from Mumbai. Meet other kirtan lovers from around the world as our Kirtan Globe family comes together for an immersive experience. Activities will include yoga, meditation, cooking, pottery making, lots of kirtan, and much more!
The pristine location of Govardhan Ecovillage - one of the top ten biodiversity hotspots in the world - is the ideal place for the yogic to unwind and transform into a different being. The uniqueness of the Ecovillage lies in the fact that it greatly integrates the principles of a primitive Vedic world of an ideal human life and contemporary sustainable technology.
For thousands of years people have traveled to India in search of answers to life's deepest mysteries. India has a way of reawakening your senses so that you can dive deeper into the meaning of life. What better way to experience this than through the lens of what we love: YOGA, KIRTAN, BHAKTI and ADVENTURE!
WHEN: 13th - 20th October 2019
WHERE: Govardhan Ecovillage, Maharashtra INDIA
EARLYBIRD PRICE: From £799* til 1st May (excl. flights) (Conversion applicable for other countries of residence)
Please contact us at info@kirtanlondon.com if you have any questions or would like more information on this retreat.

With love,
Kirtan London Retreat Team
*includes airport transfer, all meals, accommodation for 7 nights plus all activities