---
Buy tickets
Ticket Type
Price ($)
Fee ($)
Quantity
---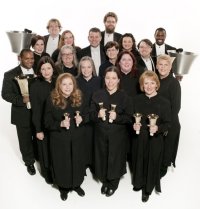 The Raleigh Ringers is an internationally acclaimed concert handbell choir based in Raleigh, North Carolina. The Raleigh Ringers are known for playing unique interpretations of sacred, secular and popular music, including rock 'n' roll tunes arranged just for handbells. The Raleigh Ringers has performed in 39 states and the District of Columbia, in several cities in France and England, and in Canada.
The group plays on the largest set of handbell or handbell-like instruments in the world – 29½ octaves composed of 361 individual pieces of equipment. The group is well-known and is recognized as a community handbell ensemble that tours and produces high-quality recordings.
This is your chance to see the Raleigh Ringers in Owasso. Get your tickets today. Seating is limited.