---
Buy tickets
Ticket Type
Price ($)
Fee ($)
Quantity
---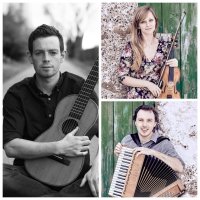 This band blends Irish, American and other folk music styles for a sound that's at once traditional and modern.
One for the Foxes consists of Dave Curley on vocals, guitars, banjo and mandolin; Tadgh Ó Meachair on piano and piano accordion; and Joanna Hyde on vocals and fiddle. Curley is originally from Galway, Ireland, while Ó Meachair is from Dublin. Hyde is a native of Denver, but she and Ó Meachair — who are married — now both live in Dublin.
All of the musicians had already established themselves with other acts — Curley in SLIDE and Runa, Ó Meachair in Goitse and Hyde in The Hydes — before teaming up. Curley, who is also an award-winning Irish dancer, met Ó Meachair at the University of Limerick. He was a guest artist on One for the Foxes' self-titled debut CD, but he has recently joined the band as its third member. "Most of our music is interactive, so we encourage people to clap along and get involved. We try to engage the audience and not just stand there." 
Curley said the band is named after a song Ó Meachair and Hyde wrote for a family of foxes they saw playing in their backyard.
"It's always a difficult thing, trying to figure out what to call yourself," Curley said.
All of the members of One for the Foxes write, and Curley said Hyde and Ó Meachair also pen instrumental works that resemble "mini classical pieces." Hyde grew up with bluegrass and Texas swing music, while Curley and Ó Meachair were raised listening to and playing Irish and folk music. Curley said the band draws links between traditional Irish music and American folk songs.