---
---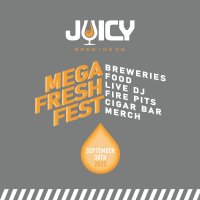 About Event:
Mega Fresh Fest, Juicy Brewing Company's first ever beer festival, is coming to Northern Virginia on September 30th, 2023! This is going to be a celebration of the Juicy story and those around us who are a part of it. The venue is at Vanish Brewing's Pavilion space; out in the incredible Virginian nature! Just picture it: trees, rolling lawn, creek, and a beautifully rustic barn. We will have live DJ sessions with chill house and trance music as the soundtrack to all of this, a cigar bar, and a special VIP area. We have more than 20 breweries coming from all across the United States, and even a few from other countries!

Come out and enjoy beers from (more to be added):
450 North
Adroit
Aslin
Commonwealth
Crooked Run
Cushwa
Dewey Beer Co
Dreamstate
Four Score
Funguys
Heavy Reel
Icarus
Ill Will
Imprint
Juicy
Long Live
Magic City
Mortalis
Narrow Gauge
RAR
Sapwood Cellars
Southern Grist
Stoneface
Vanish
Variant
About GA:
General admission tickets get you entry into the Mega Fresh Fest with a tasting glass to try all the beer you could want from all of our featured breweries! There will be food trucks on site, as well as cigars for purchase. We can't wait for you to join us and enjoy the music, Virginia landscape, and delicious libations! Don't sleep on our fest!
About VIP:
We have a limited amount of VIP tickets, which include everything from general admission plus a few extra good perks! The VIP ticket also includes a 4 pack of our festival beer, a custom hat, a custom pint glass, and access to our VIP area with some surprises! 
Note about DDs:
DD tickets aren't required for this event because Vanish Brewing is just up the driveway and should have plenty of food and soft drinks available for your DD to enjoy as they wait for you to emerge from the forest.

Get them while they're hot!