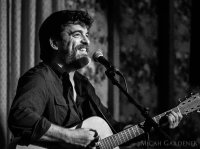 Society Hall is thrilled to welcome Jeff Plankenhorn to the Society Hall stage! 
Jeff Plankenhorn is a world-class songwriter and had been an accompanist to the stars and first-call session musician in Texas (Joe Ely, Ruthie Foster, Ray Wylie Hubbard, etc.) for 16 years when he decided to go solo with his critically acclaimed SoulSlide album (featuring performances by Ruthie Foster, Malford Milligan, Rami Jaffe (Foo Fighters, The Wallflowers), and The Resentments, with co-writes from Bret Dennen, Gary Nicholson, and Miles Zuniga (Fastball). He's a virtuoso multi-instrumentalist who designed his own signature lap-steel "The Plank" that gained him an Austin Music Award in 2017. As a Black Fret major grant recipient in 2018 and with the release of his second full-length album as a solo artist, Sleeping Dogs (featuring Ray Wylie Hubbard, and Patty Griffin, and co-produced by Scrappy Jud Newcomb). His hard work is paying off and he's building his audience at festivals and venues all over Canada & the US, building lifelong friends and fans along the way.

His current releases are a pair of EP's Covered/Uncovered Vols.I and II. In 2023, he'll extend his reach into Europe for the first time since he was on the side of the stage.
"Jeff Plankenhorn has become an Austin institution, sought after by many artists to lend his musical talents to their albums and performances. Calling him a guitarist doesn't do him justice, though. Sure, he's designed his very own guitar – a custom lap steel guitar called, perhaps not surprisingly, "The Plank". And you can give him just about any stringed instrument and he'll no doubt get it singing. —Mayer Danzig, Twangville

"Plankenhorn made his name in Austin as a preeminent guitar slinger, especially as a slide specialist. Now he's put pen to paper and is increasingly known for his impressive songwriting and powerful voice. With the recent release of "SoulSlide" he has completed his bona fides as both a master instrumentalist and an important songwriter and singer." —Austin Songwriter
"Over the course of the last two decades, Jeff Plankenhorn has worked tirelessly to earn his rep as one of the most reliably can-do, right-dude-for-the-job musicians in Austin, Texas. As an exceptionally talented acoustic, electric, slide, and lap-steel guitarist with a keen understanding of the importance of playing to and for a song rather than all over it, he's been called on countless times to back a veritable who's who of Texas and Americana music's finest singers and songwriters, including Ray Wylie Hubbard, Joe Ely, Eliza Gilkyson, Ruthie Foster, and the late Jimmy LaFave." —Lone Star Music