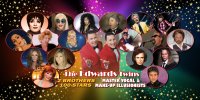 EDWARDS TWINS PRESENT THE ULTIMATE CHRISTMAS VARIETY SHOW
"CHRISTMAS WITH THE STARS"
Remember all the wonderful Holiday Variety shows we all grew up on in the 70's & 80's?  The Edwards Twins are Las Vegas' number one impersonators of all time.  See them re-create all of your favorite legendary Superstars in "Christmas with the Starts" show. 
Now is your chance to see THE EDWARDS TWINS re-create Sonny & Cher, Neil Diamond, Johnny Mathis, Rod Stewart, Bette Midler, Barbra Streisand, Andrea Bocelli, Tom Jones, and many many more super stars all in one show.
Here is what the critics says about The Edwards Twins… 
USA TODAY and THE BOSTON GLOBE raves "A Must see show" Each Star sings their #1 hits as well as a few of your favorite Holidays Songs.
NBC Today Show, "it's one of the most extraordinary shows we have ever seen."
"I am their biggest fan" CELINE DION
As seen on, Netflix "The Kaminsky Method"
The Edwards Twins are celebrating 37 years of performances.

All vocals are live – no lip sync.
VIDEO LINK: https://youtu.be/1TSzCNHcPtM
Dinner & Show $75 per person (including gratuity plus tax)
Happy Hour: 50% discount on house wines, wells, dom. draft beers 5 to 6pm daily
For assistance with reservations call 239-549-3000
CLICK HERE to receive our weekly email specials and entertainment schedule

There are two parking lots close-by. One is on the East side of our building & the other is on the West side of Vincennes Blvd. in the next shopping center. Usually, it is easier to find a space in this lot.