---
Buy tickets
Ticket Type
Price (£)
Fee (£)
Quantity
---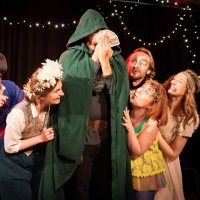 The company behind fringe-favourite Murder, She Didn't Write bring their new show to the Bristol Improv Theatre.
Degrees of Error presents… Fairytale Ending
Everyone's looking for their happy ending, but exactly how are they supposed to get there?
Join Degrees of Error as they weave together a tremendous tale of fun, fantasy, frolics, and farce in an attempt to reach the Fairytale Ending selected by the audience.
Praise for Degrees of Error:
"★★★★★
…by far the best improvised show I have ever seen!"
— Inter:Mission
"★★★★
… funny, clever and, admittedly, insanely cool."
— Ed Fringe Review
"★★★★
… a vigorous, hilarious cast that fully deserve the success they are finding."
— Broadway Baby