---
Buy tickets
Ticket Type
Price
Fee
Quantity
---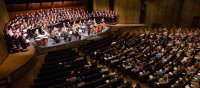 Join Rivertree Singers in its annual Festival celebration of choral music under the baton of Warren Cook! We are pleased to announce that we have chosen to perform Johannes Brahms' much-loved and transcendent Requiem during the sixth annual Rivertree Singers & Friends Choral Festival. Warren Cook and Rivertree Singers will perform this monumental masterpiece with the Festival Orchestra and more than 150 singers from around the United States. We will all meet in Greenville for a exhilarating weekend, June 20-22, 2019.
The concert will be held in Rodeheaver Auditorium on the campus of Bob Jones University. Map: http://goo.gl/maps/ueCpy
Seating is general admission (open seating).
Tickets for the Saturday, June 22, 7:30 p.m. performance will be sold exclusively through the Rivertree Singers box office. $15 General Admission. Students (6 years old and up) are $12 each. Group sales for 10 or more are available for $12 each.