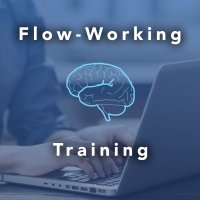 Learn-by-doing the art of effortless personal productivity, the science of deep focus, the power of Flowstates, and energy management.

While getting your own work done.


The day combines:
2.5hr training workshop based on neuroscience, the science of happiness and peak performance - to build life lasting skills.


4 hours to get your own work done and learn-by-doing the Flow-Working method.
Compared to an ordinary workday, participants report making 50%-300% more progress on their work, and feel energized at the end of the day.
You will therefore not lose a day of work. In fact, most participants gain time, and energy - compared to staying in the office.


30 min total of energizing movement, and meditation


Connecting with likeminded people, and having fun!
The first Flow-work Day was an eye and brain opener for me, the second day a week later did put me already in a highly productive flow and on the third Flow-work Day I experienced working sessions without any disturbing thoughts at all, forgetting time and surroundings and I just wrote, wrote and wrote. The Flow-working days are always greatly organized, fun, and in the evening I feel still fresh and focused to go on.  - Gerd Pulsinger, Founder fermentation.ninja
Although I am seen as quite the productive person in the teams that I work with, attending Antoine's Trainings and Boostcamps ups my productivity game every time. Highly recommended to all brain workers, professionals and entrepreneurs!  - Inga, Managing Director 

Who is it for?

For knowledge-workers: professionals at all levels, entrepreneurs, freelancers, researchers, creatives, etc

Individuals, and teams up to 10.

This program is suitable whether you are new to the topic, or advanced. 

Already 130+ events and a growing community.


Workshop contents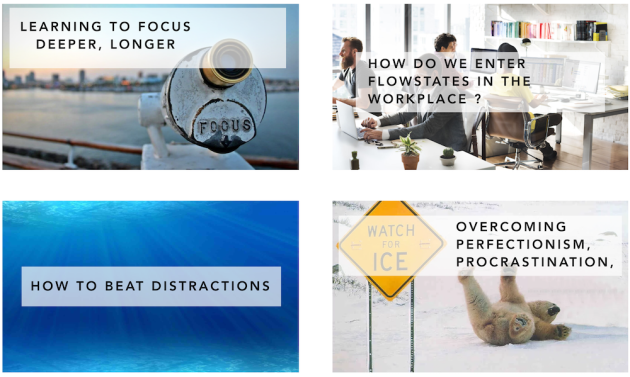 You will also learn by doing:

How to get work done with less effort.
The art of deep focus
Consciousness training
Dealing with resistance and hesitations.
How to enter deeper Flowstates systematically.
How to finish the workday feeling less tired.

If you have attended the 1 day Flow Working training, this content is designed to be complementary. You will find some new topics, some reviews, some deepenings.
Got meetings ? A manager to convince ? 
It is the intention of the day to escape the workplace and get away from the incessant stream of busyness/meetings/calls, in order to deeply focus on what matters most.
This training is designed to benefit both yourself personally, and your company.
Don't hesitate to share this event page with your manager.




What else does it include?

You will be working in full privacy with your own work, in a distraction-free environment. Bring your laptop. 

You can work on anything you like, professional or personal work: building a website, writing reports, writing a book/thesis, finance, processing emails, coding... you name it, as long as you can do this without talking or otherwise disturbing others.


More information
Mastering focus & effectiveness is a key skill to improving the quality of our everyday life, our psychological and physical health. We learn to eliminate causes of stress, to have more time and energy, experience deeper motivation and purpose, make progress on what matters most with a sense of ease, enjoyment and meaningfulness.

You will be guided step by step through a mindful process to build your skills for easier, more satisfying workdays. 

More than 130 Events and retreats

Why personal effectiveness training changes lives
Personal Effectiveness is about getting things done that matter, with a sense of meaningfulness and pleasure - as opposed to pressure, or stress. The purpose of productivity is to make purposeful progress, with ease. Ultimately it is about living a better life, free up our time, increase mental and physiological health and open new possibilities.
We organize these trainings because we believe effectiveness is one of the most life improving skill one can develop.
Effectiveness training has one of the highest ROI of any skill set. People who train their effectiveness skills by
+10%: Regain 5 weeks per year,
+30%: Regain 14 weeks per year,
Most of us have a potential for doubling or tripling (+100 to +200%) our effectiveness levels.
These skills tend to stay for life. 

Can you afford not to train yourself and your team?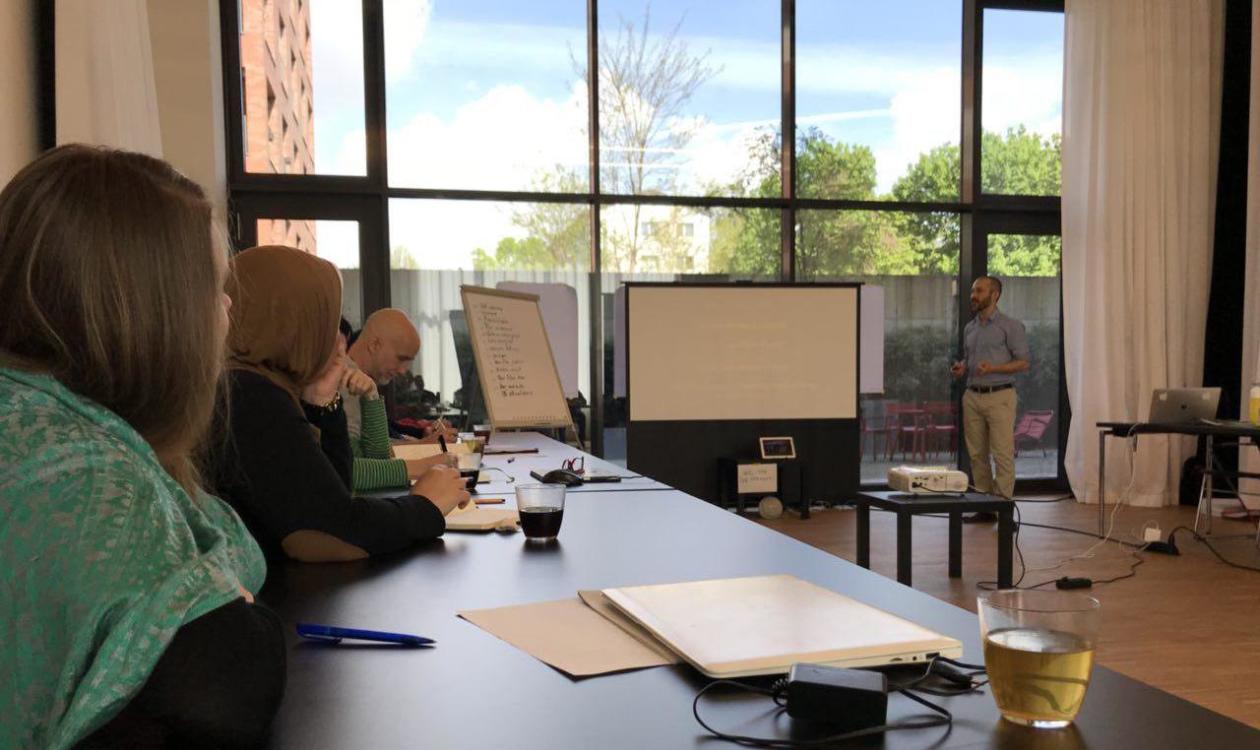 Flowstates and why they are a superpower
Flowstates are super-power: our brain's creativity increases by 2x, productivity by 5x, while feeling calm and relaxed (McKinsey research on executives). Even if you already are a high achiever.

Flowstates are not only about our deepest focus, but they are also our optimal state of wellbeing and happiness. 
In Flowstates, the brain takes in more information per second and processes it more deeply.

Companies like Google are training their employees in Flowstates. We believe Flow is the number 1 factor for wellbeing and high-performance at work.

 You will undertake work on what matters with exceptional focus and clarity.

How often do you/your team achieve a flowstate?
It is hard to be consistently focused and productive.  
Obstacles to effective and productive work increases stress levels and unhappiness in the workplace.
The brain worker is interrupted every 11 minutes. 80% of employees are not engaged with their work.  Companies lose 69% of each salary paid to personal ineffectiveness. 

Overbusiness, information overload, and overwhelmedness are at an all time high. Work consumes most of our mental energy.

Deep-focus has become a rare and increasingly valuable skill.
This training is for those who believe that learning to enter Flowstates is a life-changing mental ability, that anyone can master through training. 
About the facilitator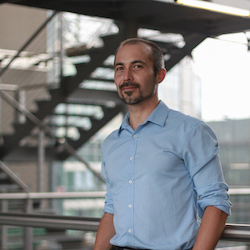 Dr. Antoine Larchez has led more than 130 Productivity days and retreats, and is the founder of Productivity Day. He has worked in both startups & venture capital firms, as a consultant in multinational engineering companies, as well as in research & academia in Australia, the US, and across Europe.
Antoine believes that training deep-focus and effectiveness is the most direct way to develop purpose and fulfillment at work and in life.
He turned around his personal life-phase of low effectiveness and procrastination by developing a unique method to enter Flowstates – and has since been sharing it with thousands.
What others are saying
"Brilliant! I even felt I wanted to skip the breaks, because the atmosphere was so energizing. Totally recommended!" – Lena Schmitt, Entrepreneur
"Attending Productivity Day transformed the way I work and increased my productivity to a level I didn't know was possible. I always felt like I was productive, but the structure and approach that Antoine uses has taught me invaluable and actionable things about how to get myself to focus." – Anna Clara Laugesen, Business consultant, Author
"Simply great! Antoine put pieces together in my head I have been reading about flow and meditation in the last years. Additionally I gained many new insights. All together in a practical method and approach!" – Ferdinand Linke, Design Thinking coach
Can I bring a team?
Yes. The workshop is an effective team building experience. Doing the training together encourages team members to reinforce each other's new skills in the workplace.
The workshop not only transforms the way groups work, but also helps increase everyone's overall morale, fulfillment, and performance.


Contact us for any questions
If you have any questions about the training session, are interested in team training sessions, or want to organize this event in a different location, simply send us an email at hello@productivityday.com or call +49 174 7676 900.

TRAINING SIZE: 8 min-20 max. Don't wait to sign up!
"The neuroscience of Flowstates is revolutionizing our focus, wellbeing and performance at work."