---
Buy Tickets Now
Ticket Type
Price
Fee
Quantity
---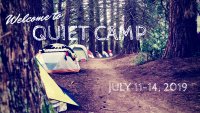 Well here we are again, it's Oregon Country Fair time folks! Quiet Camp is back this year offering up camping for the entire OCF weekend and day-parking for those who are enjoying the fair, but not staying over. Thanks for joining the Quiet Camp family and we look forward to seeing you in July!
Important Tidbits
Each camper over the age of 10 must have a General Camping Pass. You must also purchase the campsite size that suits your group. 
Example: 
2 adults with a small car. General camping pass ($60) x 2 + Standard Campsite Fee ($50)= $150 for 2 adults for the weekend. 

3 adults + 2 kids. General camping pass ($60) x 3 + Deluxe Campsite Fee ($75)= $225 for 3 adults & 2 kids for the weekend. 
 General camping is $60 per person for the weekend + campsite fee (fee varies based on size required).  Children 10 and under are free. 
Campsite Fee: We have 3 campsite sizes to choose from (this only needs to be purchased once for your group)

Standard – 20'x20′ (+$50/site) This is ideal for the solo camper or couple. You'll have space for your car, a small/medium size tent and a cozy little common area. 
Deluxe – 20'x30′ (+$75/site) Perfect for a few friends or a family. You have a small camper or pick-up, with enough space to set up an awning, put out a few chairs, and space for a tent or two. 
Epic campsites – 20'x40′ (+$100/site) 

Ideal for the glampers! You've got a full sized RV or bus, and want plenty of space to spread out and set up your home away from home. Keep in mind though, that we don't have any RV hook-ups or dumping stations, so please come prepared to be fully self-sufficient. 
For full details, please check out of website, http://quietcamp.com/our-campground/