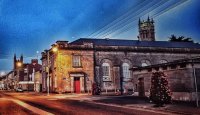 Dear Friend,
Today we are launching an urgent fundraising appeal to help support Ballinasloe Town Hall Theatre.
Through its many guises from an agricultural hall to our current day theatre, The Town Hall has played a central role in the life of our town for many generations. We are so grateful to all of those from our community who have stewarded and supported the Hall throughout its lifetime. Today we have one of the finest theatres on the island, a venue that has been host to countless productions and audiences over the years.
However, since the onset of the Covid-19 pandemic almost a year ago, our theatre has gone dark. Our live events programme has been cancelled and our income has been completely decimated.
While our income has disappeared, our outgoings have not. At present, it costs in the region of €750-1000 per month to cover the most basic running of the theatre. This includes insurance, WiFi, electricity and heating; all being necessary expenses even while the theatre itself is closed. We had been relying on the Ballinasloe Indoor Country Market and the rental of dressing rooms for music classes to keep on top of these bills, but due to current restrictions that small source of income has also dried up.
In order to continue meeting our essential costs and to keep the theatre afloat, we urgently need your help! Any contribution you could make would be so greatly appreciated to ensure the survival of the theatre, so it can continue to serve our community and this region for generations to come.
The current aim for the committee is to steer the Hall through this difficult time, so it will still be here for all the musicals, plays, pantos, concerts and live entertainment that we all so desperately miss. But we can't do it without your support.

We have also been working on new ways to use the theatre while adhering to public health guidelines and at Christmas we held our first ever live stream event. Our festive concert was a huge success being viewed live by an audience of hundreds (and which currently has almost 3k views on YouTube). We intend to run further online events in the coming months, so please stay tuned to our social media channels for information and updates.
Again, we wish to thank you so much for your support of the theatre to date. We look forward to welcoming you all back to the hall when public health guidelines permit.
Warm regards,
Ballinasloe Town Hall Theatre Committee