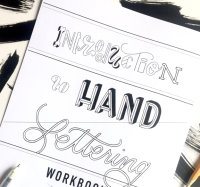 Come learn the creative art of drawing letters in this beginner level class! Build your skills to add creative lettering designs to cards, chalkboards, paintings, and more.  Anything you can write or paint on, you can letter on!
We'll start out by reviewing the basics, including what tools to work with, how to create and pair different lettering styles, and approaches for putting together compelling compositions. Next you'll practice the techniques and then apply your new skills to create a hand lettered illustration that is destined for a spot hanging on your wall.
All necessary materials are provided and are yours to take home, including a curated set of writing supplies and The Scribblist Hand Lettering Workbook. The workbook includes alphabet guides and a section full of resources for continuing your lettering journey at home!

FAQs:
What is the age limit for the event?
Our workshops are for 16 years of age or over. We are unable to accommodate additional unpaid guests.
What is your cancellation policy?
If you are unable to attend and it is at least 72 hours prior to the workshop, please contact us with the request and we will refund 100% of your payment or provide credit towards a future workshop. If it is within 72 hours before the workshop, unfortunately we cannot issue a refund or credit- no exceptions. If you are unable to make it, you may transfer your registration to another person at no additional cost.
Assembly reserves the right to cancel a workshop at any time for reasons such as low registration or inclement weather. In the event Assembly cancels a class, you will be issued a full refund.
Please refer to our Event Policies for more information.
Learn more about Assembly PDX