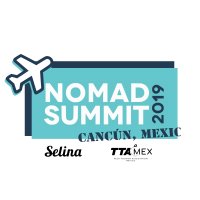 The Nomad Summit conference is coming to Cancun, Mexico with the help of Selina and the Tech Tourism Association of Mexico! Join to meet, learn, grow and level up with hundreds of digital nomads, location independent entrepreneurs and remote workers from around the world!
Cancun Airport is a direct flight from most major cities in Canada, USA, and Europe with direct flights from Madrid, Paris, Amsterdam, Brussels, London, Frankfurt, and Munich! Just a short drive from the digital nomad hotspot of Playa Del Carmen, we'll be having our after events there so come for the conference and stay for the coworking, scuba diving, and traveling!
This event will take place on October 12th-13th, 2019 with events before and after. All Nomad Summit related events are for ticket holders only, so make sure you buy your ticket today if you want to join us for the networking, conference, pool parties,and after parties!
Buy your ticket today to claim your seat and take advantage of the early bird discounts! Check out a video from our most recent Nomad Summit conference held in Chiang Mai, Thailand earlier this year!
SCHEDULE:
Friday, October 11th, 2019 - 5:30pm - 8:00pm
Pre-registration, Networking, Music and Sunset Drinks at Cancun Laguna Hotel.
Saturday, October 12th, 2019 - 9am-6pm
Main Conference Day at Cancun Convention Center followed by the Official After Party!
Sunday, October 13th, 2019 - 11am - 6pm
Nomad Networking Pool Party at Cancun Laguna Hotel VIP Speaker's Dinner.

OPTIONAL EVENTS:
Monday, October 14th - 11am - 6pm
In-Depth, Small Group Workshops Masterminds.
Tuesday, October 15th - 4pm-10pm
Beach Day Bohemian Sunset Cruise.
Wednesday, October 16th - 1pm-2pm
Travel day to Playa Del Carmen and Coworking.
Thursday, October 17th - 8am-5pm
Scuba Diving and Snorkeling Trip!
SPEAKER LINEUP: (Coming Soon)
*Schedule, speaker lineups and venues are subject to change and will be updated here as we get closer to the event
ABOUT THE EVENT:
This is our 7th Nomad Summit conference and each year we've brought you amazing speakers, actionable tactics, tips, tricks and leveling up knowledge. This year will be our first event in Mexico and we're excited for you to come! This is a not to miss event, especially if you've ever been to Mexico!
The weather in Cancun is perfect in October at 31° / 23° c and 87F / 73F.
TICKET TYPES:
Standard - General seating in the back half of the room. Chairs only, seminar style, no tables. (Normal price $199)
Deluxe - Seating with tables in the front half of the room for a better view. Great for taking notes, and for comfortably placing your coffee, water, and laptop. (Normal Price $249)
VIP - Front row center seating with extra space. Meet the speakers, sponsors and organizers at a private dinner with food and drinks included. (Normal price $997)
All Tickets - Water, Coffee, Snacks, and a Buffet lunch is included on the main conference day for all ticket holders! Tickets include access to the networking parties and pool parties. Workshops, alcohol, and special activities are optional and will be charged separately.
PRICES WILL GO UP!
Buy your ticket today for the lowest price available. Tickets are non-refundable but can be changed to another name until October 9th, 2019.
We'll be announcing the speaker lineups, and more info as we get closer to the event, subscribe for the email list at http://NomadSummit.com to get updates!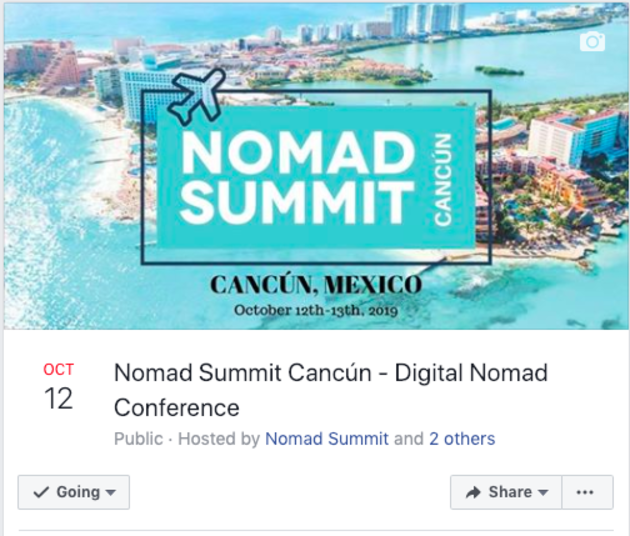 RSVP "I'm Going" on our facebook event page for updates and a chance to win free tickets or an upgrade to your existing seat! Buy a ticket today and if you win, your standard seat will get upgraded to deluxe, and your deluxe seat to VIP seating!