---
Buy tickets
Ticket Type
Price (£)
Fee (£)
Quantity
---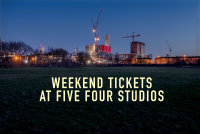 WOULD YOU LIKE TO SEE MORE OF NQL2019 FOR LESS?

DAY AND WEEKEND TICKETS AVAILABLE SO YOU CAN...

On Saturday & Sunday we have morning and afternoon sessions, with 2 events running concurrently in both.
The session times are 11am - 1pm and 2pm - 4pm
If you'd like to attend both the morning and afternoon sessions, it's cheaper to by either a day ticket or a weekend ticket.
As each individual event is priced at £6, day ticket brings a saving of £2 ( £12 - £10 ) and a weekend ticket £6 ( £24 - £18 )
Lunch and refreshments are available throughout the day at Five Four Studios.
Entrance to the bar area of Five Four is free both day times, and there
will be live music performed there during the afternoon sessions. 
The day & weekend ticket excludes evening performances and the Children Dream A City event with Hawkins Brown & GF Smith Papers.