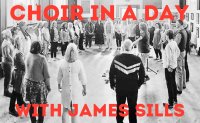 What could be better than a good ol' sing at Christmas? At this whole-day workshop, you will learn a number of festive songs in harmony from around the world, accompanied by mince pies and mulled wine!

ABOUT 'CHOIR IN A DAY' 
Come and experience the joy of singing at this one-day workshop in the beautiful acoustics of West Kirby Arts Centre. Led by experienced vocal leader James Sills, you will learn a variety of traditional and contemporary songs from around the world in 3/4 part harmony.  All songs will be taught be ear and no previous experience is necessary - just enthusiasm!
Feedback from previous workshops:
'An amazing and inspiring day. Very confidence building - what a beautiful sound we all created together!'
'Excellent fun and uplifting - really liked the mix of songs'
'Loved today, thank you. Great sound and cracking venue'
'Never felt so free and uplifted'
ABOUT THE DAY 
Arrivals from 9.30am for registration/refreshments, singing starts at 10am. Tea, coffee and homemade cakes by will be provided at breaks during the day. You may choose to bring your own lunch or walk into town to one of the numerous cafes. The day will conclude  with a final sing of all songs learnt during the day.
ABOUT THE VENUE 
West Kirby Arts Centre is a new community arts space with acoustics ideal for a cappella (unaccompanied) singing. It is conveniently located in the town centre, close to the train station and long stay car parks. Please note that there is limited parking on Brookfield Gardens and that wheelchair access to the venue is not currently available.
ABOUT JAMES SILLS 
James is a musician and vocal leader with a passion for bringing people together to sing. He believes that singing together is a fundamental part of being human, fostering community, creativity and wellbeing. He leads a number of weekly open-access choirs, including workplace choirs in healthcare settings and a homeless choir. James also delivers vocal workshops for groups and organisations across the UK, with a focus on inclusivity and confidence-building. 
His conviction in the transformative power of group singing has led James to give talks at Do Lectures (West Wales) and Creative Mornings (New York). This is also the subject of his first book 'Do Sing: Reclaim Your Voice and Find Your Singing Tribe', which will be published by Do Book Company in September 2019.
James is choirmaster at The Good Life Experience, a festival in North Wales curated by Cerys Matthews and Charlie Gladstone and is a member of the all-male a cappella troupe The Spooky Men's Chorale, with whom he has performed at festivals around the word. His also a contributing songwriter and member of Rough Island Band, a contemporary folk quartet based in Isles of Scilly,
When he's not singing or making music, he can be found walking and trail running around the hills in North Wales where he lives with his family and vinyl collection. 
twitter / instagram @jsillsmusic