---
Buy tickets
Ticket Type
Price ($)
Fee ($)
Quantity
---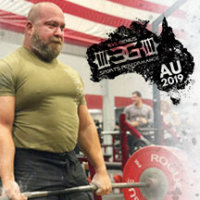 US sports performance expert Broderick Chavez "The Evil Genius" shares insights and case studies for The Vectors of Sports Performance
Internationally notorious US sports performance expert Broderick Chavez "The Evil Genius" is in town for the Arnolds.
The Evil Genius is being grilled by Rawdon Dubois and Tom Hewett from the Under The Bar Podcast for the express purpose of extracting his best knowledge on sports performance.
This is a deep dive into:
Strength | Muscle Mass| Sports Pharmacopoeia | Sports Psychology
You get insights into:
* 
Periodisation Fundamentals


* 
Training Programming


* 
Nutritional Programming Design


* 
Sports Pharmacopoeia


* 
and desired performance outcome and athletic applications
If you a bodybuilder, powerlifter, strongman competitor, strength athlete or coach then you need to secure your spot!
Broderick Chavez has actively worked in Sports Performance Field 30 years.
He has competed at a national level in bodybuilding, powerlifting and strongman, and has trained countless IFBB pros, Olympians and athletes across many sports, including powerlifting, MMA, sprinting...even a porn star - the Under The Bar boys will be asking him about that!