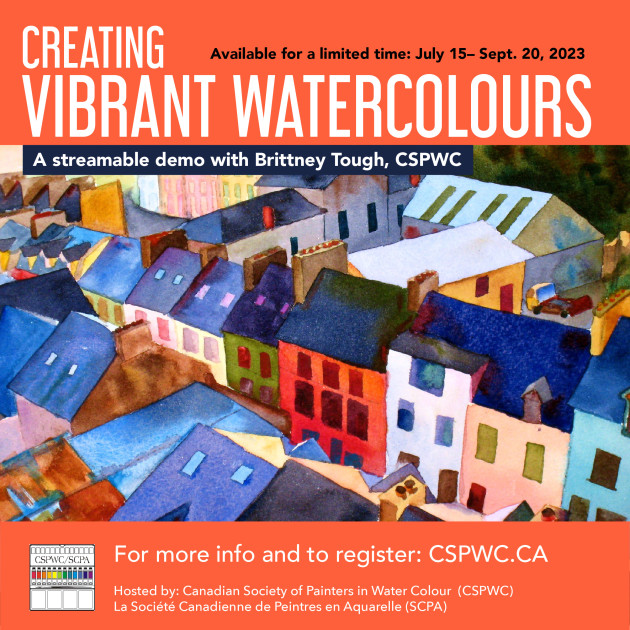 CSPWC Members and Associates $30, Non-members $35
Video available until November 30, 2023
Learn to paint vibrant colours and practice your watercolour skills from Brittney Tough.
Join Brittney Tough in this colourful class! Explore how to use colour to create vibrant watercolour paintings. Discover how to break down light and shadow and learn about analogous and complementary colours as well as the basics of colour theory. A variety of techniques will be shown as well.
Watch Brittney paint a detailed view of city rooftops. She shares her complete process in this 3 and one-half hour pre-recorded online demonstration. You will see the painting unfold and be able to paint along at your convenience. Due to the length of this demonstration we are making the recording available for more than 3 months, giving you lots of time to practive and absorb Brittney's thoughtful and deliberate technique.
Skills you will practice while completing this exercise:

1 Maintain colourful paintings and avoid mud.
2. Understand how to use colour & value to create light and shadow.
3. Learn some basic watercolour techniques such as glazing & wet on wet .
Intended for any level of participant.
After purchasing your ticket, you will receive a confirmation email. Early in the morning of WHEN? you will receive an email containing the link and password you'll need to watch Brittney's video demo on her website. The email will come from the CSPWC education committee. Be sure to add education@cspwc.ca to your contacts or safe senders list.
Please note that the video will only be accessible using the password, and only between the dates of XXXXXXXXX, 2023. You can watch the video as often as you like during that period. The video is not available for download.
For questions about this event, or if you are a CSWPC member and have not received the promo code to apply for the discount, please email education@cspwc.ca
About Brittney Tough

Canadian Artist Brittney Tough is an elected member of the Canadian Society of Painters in Watercolour (CSPWC). She is well known for her vibrant paintings depicting textiles and objects. Brittney is an international award winning artist who has exhibited work across Canada and the United States. Her work was published in Southwest Art Magazine's feature article 21 Under 31, The Artist's Magazine, Watercolour Artist and the Splash hardcover series of the best in contemporary watercolour. 
Brittney has shown in local, national and international exhibitions and received numerous awards in these competitions. Brittney received a Fine Arts Degree in Painting from Alberta University of the Arts in 2007 and is based in Calgary, Alberta. She has been teaching art for over 10 years and continues to expand her practice internationally.
See these samples of Brittney's intricate and colourful work: