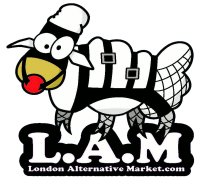 LAMv2 #35 ~ Leadenhall Sunday 1st of October 2023
Back for another month and another year of the finest Kink+ shopping, social and education on offer in the heart of the kinkiest city in the world. The bar will be by card payment only but some stalls continue to take cash or cards and its cards or tickets on the door. Please ensure that you have all of your ticket documents ready for Mistress Absolute to inspect (she does not like to be kept waiting).

LAM is the perfect place to shop, socialise and enhance your skills and understanding in a Kink+ environment, whether your along to pick up supplies, catch up with friends, make new ones or what to immerse yourself in the workshops and educational material since 2006 its been the worlds longest running community focused market and after party.
Spread over three and a half floors (the mezzanine dining area is the only non-accessible part of the venue) we host a range of kink traders from clothes and toys to books and furniture with the majority of traders specialising in custom work in a comfortable and clean environment. There is ample socialising space within the venue and the LAMnet wifi network will give you access to the workshops if there is not space in the workshop room.
The schedule for the day is:
12pm ~ Doors open
1pm ~ Newbie orientation
2pm ~ Healthy Mental Practices with @TheKinkShrink a 90 minute session
3:30 ~ Rope clothes and garments with @MistressJ-67 from Australia
4pm ~ Affordable Leather 30 years of on the scene 
5:30 ~Peer Rope LAMdon with @OpalFruit a beginners session (capacity 35 - 15 guaranteed place tickets available)
6pm ~ Market closes
7pm ~ After Party Starts and sub basement bar will be open
Workshop are seated on a first come first seated basis, there is often a que for the Healthy Mental Practices sessions which starts about 10 minutes before the workshop starts. If you are unable to get a seat please join via the LiveStream or catch up later via the YouTube archive. The rope session has a capacity of 35 but 15 advance tickets at £5 are available to ensure a seat (see ticket site for details).
We are lucky to have The Kink Shrink, Deb as resident workshop host running Healthy Mental Practices. It is a Q&A session on any question you have around on all thinks Kink, Play, Toys, Authority Transference, Ethical Non Monogamy, Psychology, Mental Health, Transitioning, Gender and Identity, Sexual issues, Communication etc. Deb is a qualified Therapist specializing in above all is 41 years experience herself, so all how to's and why's welcome. This workshop is always full, so please come along early to grab your space. 
We also have an additonal workshop on rope clothing from @MistressJ-67 which is visiting from Australia and Graham from Affordable Leather who marks 30 years of kink.  
Newbie session
If your new to the scene or the event we would advise you attend the 1pm session to get the most out of the day. Each month we welcome a significant number of first time people, this session is designed to help you get the most out of the day.
Social mixing wristbands
To help identify others who are looking to expand their social network LAM encourages the use of colour coded wrist bands (available from the front desk). They indicate:
Green - open to approaches from new contacts
Yellow - open to approaches from friends only
Red - please don't approach me in that capacity
In addition we have a singles table on the mezzanine level for anyone who is attending alone and wants the opportunity to have company while they dine.
If you are feeling unwell in any way that might be contagious to others please stay away until you feel better. We will happily roll forward your tickets to a future month when you are feeling better and you can always catch up or engage via the online content until then.
We would politely remind everyone that there are clear rules and procedures to this event and that disruptive behaviour which spoils the enjoyment of others is never tolerated, especially when directed towards the staff. Failure to respect the space for others or to disrupt the event is never tolerated. Full policies and procedures can be found on the website.
We look forward to welcoming you back to LAM events.