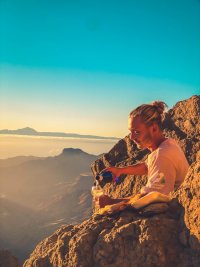 THE VOLCANO HEART TOUR HIGHLIGHTS:
● Feel the thrill of hiking through nature around Roque Nublo's Rural Park.
● Capture pictures of the stunning panoramic views at the summit of Gran Canaria.
● Try local food and drink specialities on the plains of an ancient volcano.
● Pass through charming villages and see traditional Canarian cave houses.
● Explore the inland landscapes of ravines, volcanic calderas, and rock walls.
DESCRIPTION:
Come, explore and enjoy the spectacular panoramic views that the heart of Gran Canaria offers and take home an indelible memory of these holidays. Along with this inland journey, you will cross numerous ravines, large and enormous volcanic calderas, gigantic rock walls, and several rural villages with typical Canarian cave houses... All this while also exploring the best and freshest landscapes that this island offers.
With this tour, you will realise that Gran Canaria is much more than a sun and beach destination. You can enjoy a pleasant walk at sunset through the highest area of the island, and contemplate the impressive spectacle of the sea of clouds, all while enjoying a tasting of local products on the plains of an ancient volcano or even scrambling the highest peak of the island if you wish so. At the same time, we will see the great geological and natural symbols of the island such as Roque Nublo, Roque Bentayga, and Tejeda's Basin.
ITINERARY:
● Tejeda/Caldera de Bandama: Once we have finished with the pick-up service in Las Palmas and in the South of Gran Canaria, we will start our adventure. Then, depending on the meteorological conditions, we will go up and into the interior of the island, until we reach Caldera de Bandama, one of the most incredible and newest craters on the island. The other option would be to visit one of the considered "most beautiful towns in Spain": Tejeda. Here you will have time to buy and taste some typical desserts of the area, while you walk through beautiful cobbled streets and appreciate the different typical Canarian houses, with their characteristic and peculiar balconies.
● Cruz de Tejeda: Once we have visited the town of Tejeda, we will make a brief stop at the Mirador de Cruz de Tejeda, the geographical epicentre of the island and the meeting point of most of the old royal roads, which are still used every day by numerous hikers. It is about a unique, wild, and privileged environment, with amazing panoramic views of the interior and the west side of the island of Gran Canaria. Here you can also find a market with products mostly made in Tejeda, which have high quality, and have become recognized throughout the island and even throughout the archipelago.
● Roque Nublo: After stopping at the viewpoint, we will continue with the journey and we will stop at the Parking de la Degollada de la Goleta where we will start an unforgettable and pleasant walk through the Rural Park of Nublo, where you will be captivated by the tall pine forests, and of course, the emblematic symbols of the island: El Fraile, La Rana, and Roque Nublo, all this while you taste the local products and wines.
● Pico de Las Nieves: Finally, we will visit the highest area of Gran Canaria: the Pico de Las Nieves. You will enjoy the amazing sunset and be delighted by the highest peak on the island, Morro de la Agujereada. In addition, you will also know the best and most beautiful side of the island, with views of the Nublo, the Bentayga, and even the Pico Teide, the latter belonging to our adorable neighbouring island of Tenerife. Here you will get to see the beautiful colours of the sky that will enrich your experience and trip around the island. After the summit tour, we will return to the minivan and drop you back at the same pick-up location.
* PLEASE NOTE: It is highly recommended to bring a jacket and rain jacket, if available. In the event that the weather does not allow the walk to the Roque Nublo, the guide will modify the itinerary to offer an alternative route that has better conditions (Roque Bentayga / Charco de La Paloma).
This tour is delivered by our Partners Climbo - ACTIVE TOURISM COMPANY: TA-1-0005759
TECHNICAL DETAILS:
1. Basic Info
○ Available Languages: English and Spanish.
○ Level: Basic-Easy. Most travellers can participate. Hiking into the wild: 3 km.
○ Capacity: 15 PAX.
○ Duration(start to finish): 8 h approx. of activity.

2. Inclusions and Exclusions
○ What is Included:
■ Official Tourist Guide. Activity accredited and supervised by an AEGM/UIMLA Certified Mountain Guide.
■ Zero-Km product tasting: Food and drink (glass of wine or juice).
■ Free Pick-up and drop-off service. Air-conditioned vehicle.
■ Pictures taken by the guide. 
■ Activity Insurance.
○ What's excluded:
■ Tips or Gratuities.
3. Accessibility:
○ Not wheelchair accessible
○ Near public transportation
○ This is a group activity for a maximum of 8/16 people. You will share your time with other clients.

4. Health restrictions:
○ Not recommended for people with mobility impairments.
○ Not recommended for travellers with heart problems or other serious medical conditions ○ Not recommended for people with any recent injuries.
○ Not recommended for pregnant travellers
5. What you need to bring:
○ Sports clothes, hiking shoes or closed sports shoes, a backpack is essential (avoid bringing disposable bags), a swimsuit, a towel, a spare of dry clothes, a light coat/raincoat, sun cream, something light to eat (sandwich, fruit, or snack bar), 1,5 l. water bottle.
6. Pick-up and Ticket Information:
The activity includes free pick-up and drop-off, from Buddies Bar in the Yumbo Centre and equipment like hiking poles on request. However, we recommend checking your email and reading our suggestions for the activity before coming.


⚠️ ATTENTION:
● You need to bring sports clothes, hiking shoes or closed sports shoes, a backpack is essential (avoid bringing disposable and plastic bags), a swimsuit, a towel, a spare of dry clothes, a light coat/raincoat, sun cream, something light to eat (sandwich, fruit, or snack bar), 1,5 l. water bottle.
● Please, be ready 15 minutes before pick-up time at your selected pick-up location.  Passengers are responsible for being prepared and visible for their pick-up.
● Pickups may be earlier or later than described, up to 20 minutes late, depending on traffic and/or uncommon circumstances beyond Climbo's control. All efforts will be made to contact you if we are going to be more than 20 minutes after your scheduled pickup time.
DISCLAIMER:
● The development of this tour depends on the weather conditions, the terrain, and the people participating. Significant changes in any of these conditions may imply the modification of the activity at the discretion of the guide.
● The time you return from your tour depends on how the morning unfolds and can vary for several reasons, outside the Climbo control. Climbo accepts no responsibility for any delay in returning passengers to their pick-up location, connecting tour or departure point.
● If you inform us of your dietary restrictions well in advance, we will do our best to offer you an alternative menu, but Climbo does not promise to be able to offer it in all cases.