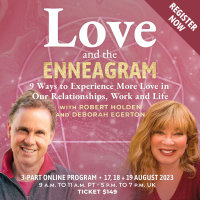 LOVE AND THE ENNEAGRAM

9 Ways to Experience More Love in our
Relationships, Work, and Life
With ROBERT HOLDEN and DEBORAH EGERTON


3-PART ONLINE RECORDED PROGRAM
Recorded on
17, 18 &19 AUGUST 2023



ABOUT LOVE AND THE ENNEAGRAM
In Love & the Enneagram, Robert and Deborah will work with the wisdom of the Enneagram to help you experience a deeper understanding of the nine Ennea-types and their relationship to love.
CLASS 1:  Types 1, 3, and 5
CLASS 2: Types 4, 6, and 8
CLASS 3: Types 2, 7, and 9

No previous experience of The Enneagram is necessary. To benefit fully from this program, we recommend you take an Enneagram Test to discover your Enneagram Type. The RHETI Enneagram test from the Enneagram Institute is available for purchase separately: https://www.enneagraminstitute.com/rheti
Note: On purchase, you'll receive a link to the 3 Class recordings.


About Robert Holden
Robert Holden's innovative work on psychology and spirituality has been featured on Oprah, Good Morning America, a PBS special Shift Happens!, and two major BBC-TV documentaries. He teaches a public program of Enneagram workshops each year and a Leadership & The Enneagram program for clients like Dove & the Real Beautiful Campaign, Google, IBM, Unilever, and Hay House.
Robert gave the opening keynote on Love & the Enneagram for the International Enneagram Association annual conference in 2021. He has taught Enneagram retreats on Jerusalem, Assisi, Findhorn, Greece, and Montserrat (home of the Black Madonna) and around the world. Robert is a New York Times best-selling author of 10 books including three books on love: Loveability, Life Loves You (co-written with Louise Hay), and Finding Love Everywhere: featuring 67½ Wisdom Poems to Help You Be the Love You Are Looking For.
www.robertholden.com

About Deborah Egerton
Dr. Deborah Egerton is an internationally respected psychotherapist, IEA Accredited Professional with Distinction, a certified Enneagram teacher, best selling author, and IDEA (inclusion, diversity, equity, and anti-racism) consultant, coach, and spiritual teacher. Dr. Egerton specializes in justice, equity, diversity, inclusion, and anti-racism work with individuals & organizations designed to create intentional culture change. She facilitates career growth and personal development with individuals and organizations by focusing her efforts on respecting the uniqueness of every individual & honoring their humanity.

Dr. Egerton teaches the Enneagram for introspective self-discovery and to cultivate a socially responsible community of cultural allies. Her work with the Enneagram has enabled her clients to get "unstuck" & move out of self-defeating negative behavioral patterns to establish workplaces & communities that work well for everyone. She holds a BA in Mass Communications from the University of Texas EL Paso, an MA in Counseling Psychology, from Webster University, and a Ph.D. in Health Sciences from Saba University, Netherlands Antilles. www.trinitytransition.com