---
Buy tickets
Ticket Type
Price
Fee
Quantity
---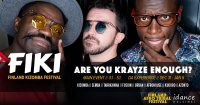 WELCOME TO FIKI FESTIVAL
Finland Kizomba Festival a.k.a. FIKI is celebrating its 5-year anniversary in January 2020!
FIKI is known by its warm, krayze and cozy family atmosphere, and we're warmly welcoming you to da FIKI Family!

This time FIKI will be krayzier and more epic than ever before! We'll start warming up for the festival already on New Year's Eve!! FIKI'20 will also bring you even more international TOP teachers for Kizomba, Semba, Fusion, Urban Kiz, AfroHouse, Kuduro & More! Bigger line-up of amazing international DJs for all Kizomba & Urban Kiz!


Official event from January 2-5, Extended event from December 31st till January 6th
FIKI'20 offers you all this:
★ 4 to 7 days of parties
★ 3 days of workshops
★ Social dance floor
★ International Artists and Djs
★ 30+ hours of workshops with different levels and styles
★ Masterclasses & Bootcamps
★ Taxi dancers
★ Warm atmosphere
★ International dance crowd
★ Ice Swimming & Sauna

More Details in the official fb event
Get your tickets now to get the best possible price!
Tickets go up 5€ the 20th of every month!