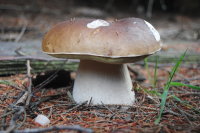 Voucher for 3.5hour foraging courses run by www.foragingcoursecompany.co.uk
The ideal gift for lovers of the great outdoors or those looking to explore nature's larder. And perfect for those seeking an environmentally friendly gift option.
​These vouchers are valid for 12 months and venues will be in areas including Cambridgeshire, Bedfordshire, Buckinghamshire, Nottinghamshire, Norfolk, Gloucestershire, Staffordshire, Worcestershire, Warwickshire, Northamptonshire, and Birmingham, with more areas being added.
​The courses includes:
- an overview of foraging laws and safety
- exploration of the venue
- an introduction to a number of edible species 
- instruction on how to tell edible species apart from poisonous lookalikes
- tips on harvesting
- information on where to find these species again
- recipe ideas
- wild food treats to sample
- digital information sheet after the course
Samples during the day can include: soups, pestos, herb rubs, vinegars, pickles, jams jellies, alcohol infusions, cordials, fruit leathers, gummy sweets, and syrups. 

Instructions on redemption detailed on the voucher. 
You can choose from digital vouchers, sent via email, or printed vouchers, which are sent via post and come with an envelope. Printed vouchers have an additional postage and packing charge.
Allow two days for digital vouchers to be processed and sent, and seven days for printed vouchers.
Please be aware courses for voucher redemption are for those aged 18 years and over, and dogs are not permitted on the courses.
Terms and conditions can be found on www.foragingcoursecompany.co.uk