---
---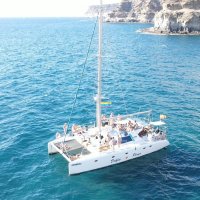 Please note this is not an official event of Adventure Week.
Join the hottest guys for a boat party where nothing stays on.
The Naked Boat is a party for gay men who like to spend another kind of afternoon, than the traditional boat party. Discover a new experience, in great company, meet new friends and partners.
What happens on the Naked Boat, stays on the Naked Boat.
You will be picked up outside Basement Studios, across the road from the Yumbo Centre Mini Golf at 13:00.
For the price of 69 euros you will get free transfers, an open bar throughout the trip, access to water sports, a Canarian Lunch, music and an open minded environment.
The Naked Boat is delivered by our friends at Away Events, you will pay a 10 Euro deposit to Can Canaria, to secure your booking. The outstanding balance of 55 Euros you will pay directly at the arrival point, in cash or by card.
What to bring:
Towel, swimwear, sun cream - (you may wish to bring a warm clothes in a bag just in case it gets a little colder on the return to port)