---
Book Your Seat
Ticket Type
Price
Fee
Quantity
---

Since the 7th October 2018 we've been asked one question most days: 
'ARE YOU GOING TO DO IT AGAIN?!
The answer is yes. Reforming MSK Practice 2019 by #TheBigRs is happening, early-bird tickets flew off the shelf and here's your chance to ogle the programme line-up then get involved by booking your seat! Wondering what stands #TheBigRs out? (Apart from us also launching a Manifesto for Reform within 2 years of existing...)

Think of a conference, then think:
- Bigger than usual household names.
- Shorter than usual keynote addresses.
- Sharper than usual panel moderators (a la TPMP)
- Deeper than usual audience participation (a la #TheBigRs)
- Relevant...er than usual break-out workshops! (Ok, I'll stop) 
FULL SPEAKER BIOGRAPHIES AT Reform.Physio/Conference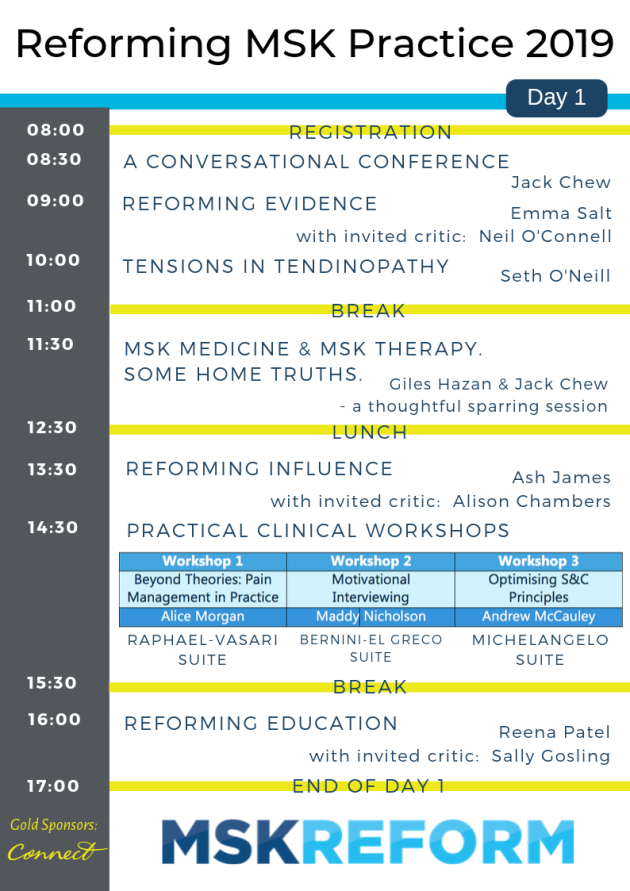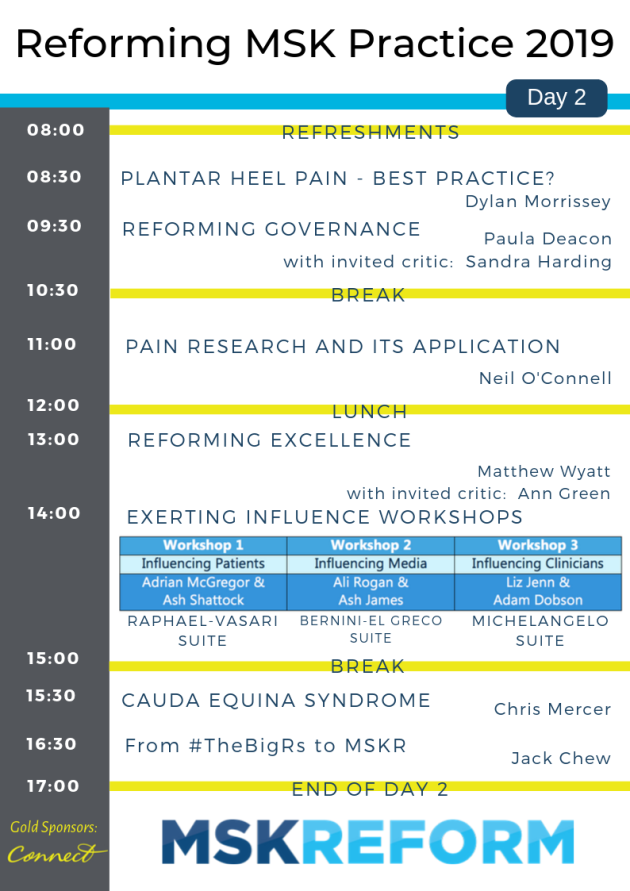 The 'Story So Far':
In 2017 Jack Chew from The Physio Matters Podcast was interrupted mid monologue by Andrew Walton at a visit to Connect Health HQ. Jack was laying out what he and his team felt were key issues standing in the way of progress in the MSK industry and the interruption was a question that would stall a utopian but delight a pragmatist; 'What would you do then?'
Instigate brave, deep, quality conversations about shared core values across the profession.

Develop a community of practice from which leaders can emerge and drive necessary change.

Share accessible and concise consensus resources widely and passionately.
09/11/17 - Over 5 hours, 50 of the finest thrashed out the 'Why'. Summarised in the popular 'BigRsDoc'
20/04/18 - Twice the scale yet twice the efficiency. We increased the student voice, the patient voice and the policy maker's voice to nail down the 'How'. We witnessed leaders, teams, proposals and plans emerge. Livestreams.

05–06 /10/18 -'Reforming MSK Practice' was a two day clinical conference with a conversational twist! We upturned the format of a conference with short keynotes, deep debates and long form audience interaction! ... oh and it broke the internet!
Contact us with any queries at enquiries@chewshealth.co.uk or 0161 871 7391