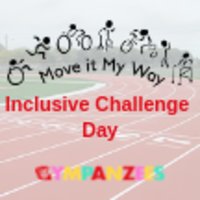 Move It My Way 

Move it My Way is a whole day of fun and challenges for the whole family - no matter age, ability or disability. It combines three exciting events all taking place on 8th September at Yate Outdoor Sports Complex, Bristol BS37 7LB.
An inclusive challenge day

A cycle sportive 

A fun day
Inclusive Challenge Day 
There will be a choice of track challenges so there is something for everyon to strive for and finish. These are not competitive challenges or races. We hope some people may train or practice to rise to their personal challenge. All participants will receive a medal.
Track Challenges - 10m to 3km   for those with any disability and any age
1. On your feet challenges include any form of running or walking, with or without walking aids (Kaye walkers, rolaters, sticks, crutches etc). Where possible we will group ages/abilities for these challenges. 
2. Wheelchair challenges are for those in manual or powered wheelchairs.  Again we will group ages/abilities where possible. 
3. Bike/trike/racerunner challenges are for those who have their own bike/trike or racerunner and these will also be grouped where possible. 

4. Walking and running -  This is ideal for individuals or for families to do together.                  

Participants are encouraged to raise sponsorship via JustGiving platform for Gympanzees and we will send some fundraising information to all participants.
All funds raised will allow us to continue to the work we are doing including activity centres for disabled children and young people.  

The event will be held at Yate Outdoor Sports Complex which is fully accessible with plenty of parking.  There will be additional inclusive changing facilities and Mobiloos for disabled people together with the current disabled toilets. 
Fun Day - Alongside the challenges, we are running an amazing fun day and everyone will be encouraged to stay for the day and enjoy a family day out. There will be plenty to do for all abilities and ages, including a soft play and trampolines, boccia, field games, face painting, food, stalls, performances, music and much more. 
Cycle Sportive - We are also running Cycle Sportive challenges of 68km and 100km from Yate Outdoor Sports Complex. If you are interested in this event please visit the booking page here


To learn a little more about Gympanzees watch this short video.