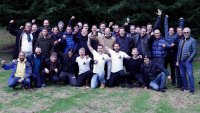 As men, we are being challenged like never before to grow up and show up in the world. At the same time, we have lost many of our traditional methods of initiation into manhood, and spaces where we can develop ourselves as men.
In a time when masculinity itself is being questioned, we firmly believe that what's needed is not less, but more mature masculinity. As men, there's something unique about entering into a bond with other men in order to develop and challenge ourselves. Often, we don't realise how much we've been missing this until we experience it – the resulting feeling so tangible that we've taken to calling it 'Vitamin M'.
Rebel Wisdom's New Masculinity Weekends are designed to help us explore a new vision of masculinity; embodying a relaxed confidence that is secure, directed and in service to the world.
This retreat is entirely experiential, carefully designed around a series of psychological and meditative techniques to take you on a process of self-exploration. These include Inquiry – a type of talking meditation – sharing in groups, active meditations, and transformational techniques to elicit deep flow states.
It's a weekend of transformation, brotherhood and expansion, in which we give a direct experience of integrating the 'shadow' – the repressed and denied aspects of ourselves – so that we can use it as fuel to become more present and powerful in the world.
We don't put forward a concepts of masculinity for you to accept or reject. Instead, we lead you through a process of self-inquiry to have a direct experience of your own masculine essence. The men who've been through this process come out of it feeling more directed, more self-aware, and more ready to speak the truth and take responsibility for the direction of their lives.  
This is a residential workshop for men with communal accommodation* and food included in the cost - starting Friday evening and concluding late Sunday afternoon.
This retreat will be led by David Fuller and Alexander Beiner - read more about them on our website.
*Accommodation is provided in the workshop room - we ask participants to bring sleeping bag and mats, a small number of private rooms are available for an extra cost of £100 per night.
See this video for testimonials from previous participants: