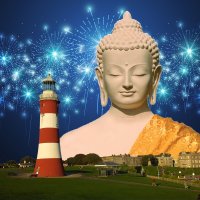 Empowerment of Buddha Shakyamuni

Teachings on Realising Our Full Potential
with Kadam Bridget Hayes - NKT-IKBU National Spiritual Director, UK
A fantastic weekend of inspiring meditation and teachings with internationally renowned Kadampa Buddhist teacher, Kadam Bridget Heyes, NKT-IKBU National Spiritual Director for the UK.

The Southwest Dharma Celebration 2023, which is open to everyone, will include a Blessing Empowerment of Buddha Shakyamuni, the founder of Buddhism in this world.
By receiving this empowerment, we will make a deep personal connection with Buddha Shakyamuni. By relying sincerely on Buddha and his instructions to us, we are certain to fulfil the potential of our precious human life, and with faith and effort will obtain enlightenment. We will become our own and other's protector, transforming all our fear into fearlessness, anxiety into unbreakable confidence, resilience and strength.
Everyone is welcome at KMC Plymouth from across the southwest of England. Attend all or any part of this event. We highly recommend attending in person so you may gain the most benefit and look forward to welcoming you to the centre, but we also welcome you online.
Schedule
Friday 15th:
07.00pm-08.15pm Introduction
Saturday 16th:
09.00am – 09:45am Meditation
11.00am – 01.00pm Buddha Shakyamuni Empowerment with Kadam Bridget Heyes
04.00pm – 05.30pm Teaching with Kadam Bridget Heyes
07.00pm - 08.00pm Wishfulfilling Jewel with Tsog
Sunday 17th:
 09.00am – 09:45am Meditation
11.00am – 12.30pm Teaching with Kadam Bridget Heyes
Venue
Kadampa Meditation Centre Plymouth,
48 – 50 Mutley Plain,
Plymouth,
PL4 6LE
Further information about getting to KMC Plymouth, local accommodation, parking and hospitality can be found on our website HERE.
Booking
- Attendance either in person or online viewing, by advanced booking only.
- Please note online viewing is not available until after the event ends on 17th December - see our website for full details HERE
- In Person and Online prices are the same whether for the whole event, or part of it
- There is no discount for KMC Plymouth members for this event
- Please be careful to order the correct ticket type: either IN PERSON or ONLINE
- If you have a problem with your ticket order or have purchased the wrong tickets, please contact us HERE.
Prices (Applies to both In Person & Online tickets) 
Whole event : £60
Friday introduction only: £10
Saturday only: £35
Sunday only: £15