---
Buy tickets
The show is currently sold out. Please add your email to our waitlist. If more tickets become available we will let you know.
Done! You are on the waiting list.
Ticket Type
Price
Fee
Quantity
---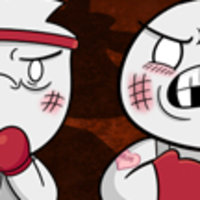 This is a one night only event that will not be broadcast - you have to be there to see it all go down. 
Alex "Big Head" Clark takes on James "The Human Marshmallow" Rallison in what can only be described as an attempt at "sports". These two animation titans will compete to see who truly is the Chess Boxing champion of the animation world. With zero training and a combined gym class grade of C+, these two are not only equally worthy competitors, but also the fiercest fighters of the animation world. 
It will all go down on July 11, 2019, when Clark and Rallison face their biggest test of endurance yet: leaving their computers for an extended period of time.  
One part comedy show, one part attempt at fighting, one part chess (or maybe checkers if we can't figure chess out...) Be there to see who reigns SUPREME (is that still a good thing?).
Alex Clark is a seasoned comedian and YouTuber, most known for his animated YouTube channel "It's Alex Clark" where he has amassed 4 million subscribers. He recently completed a 21-city nationwide comedy tour that culminated in the filming of his first stand-up special. After James "The Human Marshmallow" made an open call looking for a chess-boxing opponent Alex took one look at him and said "Sure I'll do it. I'm hungry".   Soon after, James accepted Alex's request.  He was not suppose to do that.  

James Rallison started making cartoons alone in his bedroom, but seven years and 11 million subscribers later he still makes cartoons alone in his bedroom. He also owns the best dog in the world named Floof and has appeared in the most disliked video on YouTube. He doesn't know how to play chess, but he knows how to hit hard.  

DOORS OPEN 6:15PM
SHOW BEGINS 7:00PM

FAQ:
WHAT IS CHESS BOXING?!
Traditionally, chess boxing is a hybrid sport that combines both chess and boxing.  Chess and boxing rounds alternate and last 3 minutes each.  The game ends when someone is either KO'd or the chess game is won.  

WHERE WILL IT BE?
PYLUSD Performing Arts Center - 1651 Valencia Ave, Placentia, CA 92870.  The venue is about 11 miles from the Anaheim Convention center where Vidcon is held. 


HOW LONG IS THE SHOW?
The show itself is about 45 mins - 1 hour, and the VIP meet-and-greet/ Q+A will last for about 2 hours after the show.


WILL THIS BE BROADCAST ONLINE
Probably not.  Putting this together has been a ton of work and adding in a quality live broadcast would add another layer of complexity we're not ready to tackle.  That said, we know fans want to see it all go down so we will definitely be doing recap videos after the event.  


IS THIS A REAL BOXING MATCH?
Absolutely 100% Not


WHAT DO VIP GOLD TICKETS GET YOU?

Priority seating at the front of theater (see diagram). 
Front-of-line passes to the meet and greet with Alex and James after the show
Access to the Q+A after the performance
10% off merch at the show
VIP Gold lanyard    



WHAT DO VIP SILVER TICKETS GET YOU?


Priority seating at the middle of theater (see diagram)
Passes to the meet and greet with Alex and James after the show
Access to the Q+A after the performance
VIP Silver lanyard



WHAT DO GENERAL ADMISSION TICKETS GET YOU?
General admission tickets get you admission to the show and seating in general admission section (see diagram.)


ARE THERE ANY AGE RESTRICTIONS?
This is an all ages event, but children under the age of 14 must be accompanied by an adult.


CAN WE TAPE THE SHOW/ TAKE A PICTURE!?
Please DO NOT film or photograph the show or be on your phone for the duration of the performance. 
*The best way to guarantee a picture with Alex and James is to sign up for a VIP package. They'll be meeting and taking photos with everyone that purchases a VIP ticket.


PARKING INSTRUCTIONS: 
Lot on site.
TERMS & CONDITIONS: All sales are final. Returns/refunds/exchanges will not be issued.