---
BOOK NOW
Ticket Type
Price (kr)
Fee (kr)
Quantity
---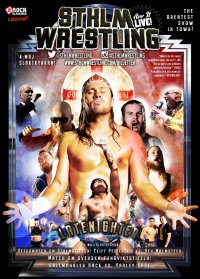 Ballmangler Bäck vs. Harley Rage for the SWEDISH HEAVYWEIGHT TITLE.
Alex Bäck, better known as Ballmangler has found out that it was Marcus of Man & the Party (not the fun type!) that was behind the locker room mauling of himself and the theft of the title that Bäck had just won. Unable to find Marcus he is now on the warpath and a now defunct Party will not stop the Ballmangler Revenge Tour 2019 from rolling! He now faces HARLEY RAGE, the former Party minister of defence for the SWEDISH HEAVYWEIGHT TITLE.
Ken Malmsteen vs. Cliff Pettersson rematch FOR THE CAPITAL CITY TITLE.
The son of Stockholm: Cliff Pettersson nabbed the title in one of the most lauded and exciting matches of the last few years. The immensely popular Cliff has gone from strength to strength but will it be enough to win over a reinvigorated and refocused Ken Malmsteen? Ken now claims he is a god and he will have the aid of "the Beskyddaren" ringside. Will he have the advantage or will Cliff defend the title in the rematch?
Aliss Ink vs Demon Lock.
The Face of a demon has exposed itself to Sthlm Wrestling. The challenger: Aliss Ink will heed the call of the demon that came out of nowhere. Godspeed fair killer kick rocketboot maiden!
Hooga vs. PT
Hell hath no fury like a tag team partner out for revenge! At the last show Hooga Chaka met PT and Ken Malmsteens new henchman "BESKYDDAREN" in a tag team match. After the match PT BROKE Chakas fingers in one of the worst displays of inhumane despicable conduct we have ever seen! PT has promised to yet again deliver ringside help. Who will he bring?
El Bruto vs Johnny Flash
We all remember Aya Fricks monster EL BRUTO! He was not the neonazi-alien with spikes grown in to his arms that we suspected! He was a short but quite well built man with a very hairy chest. He has asked for a match versus Captain Banana himself, to redeem his loss at LUCK II, and who are we to say no to such a brute?
J.O Hansen vs. Yuri
Slav King Yuri was given a bad beating at the hands of J.O Hansen after the last match they had (and he cheated by eyepoking Yuri to win that match too!) Using a Singapore Cane he walloped the poor Gopnick on the stage over and over again. Now Yuri is"VERY VERY VERY ANGRY" (SIC) and wants not only a rematch, but also to give back in turn what was to him given! What you give, you will receive twofold! That and Vodka! 200% HARDBASS!
See you the 4th of May!