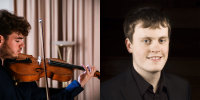 Since winning 1st Prize in the Lionel Tertis International Viola Competition in 2016, Timothy Ridout has gone on to perform widely in Europe. Jâms Coleman is a pianist who enjoys a rich and varied musical life performing as a soloist, chamber musician and vocal accompanist. For their Conway Hall début, they come together in a programme of Russian and Belgian works for viola and piano, culminating in one of César Franck's best-known compositions, originally for violin and piano.
Glinka | Sonata for viola and piano in D minor
Shostakovich | Sonata for viola and piano Op.147
Franck | Sonata in A major (arr. for viola and piano)
Tim Ridout (viola)
Jâms Coleman (piano)
--
5.30pm - Pre-concert Recital | Royal College of Music Musicians - Eumelia Trio

This FREE Pre-Concert Recital will feature students from the Royal College of Music, and will take place before the evening's Sunday Concert. This week, the Eumelia Trio, a leading ensemble from the internationally-renowned conservatoire, will perform a programme of music entirely by woman composers. This is a fantastic opportunity to witness the future generation of music stars, as they perform live on the Conway Hall stage.
Auguste Janonyte (violin)
Abigail Lorimier (cello)
Michaella Livadiotis (piano)

Rotem Sherman | Three Wishes
Rebecca Clarke | Piano Trio
--
Conway Hall Sunday Concerts
Founded in the 1880s, our chamber music concert series is the longest-running of its kind in Europe. Conway Hall was purpose-built in 1929 to host concerts and lectures, and they have continued here until the present day. The ethos of 'affordable classical music for all' still remains. Visit our website for more information about all our Autumn 2019 Season music events, including concerts, pre-concert talks and recitals.
This event is in the Main Hall on the ground floor. For accessibility info: https://conwayhall.org.uk/abou...
It is part of Conway Hall Ethical Society's charitable programme and is tax-exempt.