---
Buy tickets
Ticket Type
Price ($)
Fee ($)
Quantity
---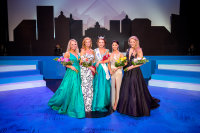 Miss Ohio Week 2019 Tickets

This online form will allow you to Pre-Order Tickets for Miss Ohio Week 2019 and receive preferred seating.  
Tickets for Miss Competitions, Thursday-Saturday (June 13th-15th) are reserved seats. Tickets for the Outstanding Teen Competition on Wednesday (June 12th) will be general admission seats.
Pre-Order tickets will be mailed to the address provided starting in Mid-May.
If you have any questions, please email our Ticket Chairperson, Sandy Trebonik at tickets@missohio.org.
Pre-Orders through this site will be accepted until April 30th.
Tickets will then be available to the public through the Renaissance Theater starting on May 15th at www.mansfieldtickets.com, calling the Box Office at 419-522-2726 or visiting in person at 138 Park Avenue West, Mansfield, OH.